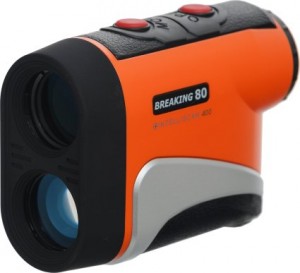 If you love golf, but you also feel like it is too expensive in many cases, you aren't alone. The cost of the game is one of the main complaints that regular golfers have (along with the pace of play problem), so saving money in any area of golf is always a welcome experience. That is especially true when it comes to rangefinders, which can be rather expensive if you wish to purchase one of the top brands on the market. With the Breaking 80 Golf Rangefinder, you just might be able to save yourself some serious money while getting the yardages you need to hit great shots.
Don't worry if you haven't heard of the brand 'Breaking 80' – they are relatively new to the golf business, and certainly don't have the name recognition of brands such as Bushnell, Nikon, Callaway, and others. However, that doesn't mean you should dismiss this product without so much as a second thought. Saving money is always worth consideration, especially if it is possible to get the same kind of performance from a less-expensive device.
What Does It Do?
Well, it measures distances, of course. There are actually three models of the Breaking 80 Golf Rangefinder, and each of them has a different maximum range. The base model, the IS400, will measure distances up to 440 yards. The IS500 model extends that range up to 550 yards, and the IS800 model takes it all the way out to 880 yards. As you would expect, the cost of the device will increase as the range gets bigger and bigger.
For golf purposes it is hard to understand why you would need anything beyond 440 yards worth of range. No golfer can hit the ball that far with a single swing, so you shouldn't need to measure that far of a distance before hitting a shot. In fact, a rangefinder that can measure up to 300 yards or so should be sufficient for the needs of 99% of the golfers in the world. If you are going to use your rangefinder for other applications away from the course – such as for hunting – you may need a long range, but not when playing a typical round of golf.
What this model doesn't do is slope. There is a Breaking 80 Rangefinder with slope capabilities, but this is not it. Is that a drawback? Well, it depends on what you want from your device. While it might be nice to have the ability to adjust for slope, models that have such a function are generally banned in tournament play. Generally speaking, you probably don't need to bother with a model that includes slope adjustment unless you are particularly focused on having that capability for a specific reason.
Lifetime Replacement Plan
When buying a product from a brand name that is not as well known as some of the others in the market, you may have questions about the durability of the product you will receive. While those questions are warranted, you will be happy to know that Breaking 80 stands behind its products in a couple of ways. First, the rangefinder is protected by a 60-day money back guarantee. There will be no questions asked if you wish to return your rangefinder within that 60-day window. Also, the product is supported by a lifetime replacement plan. This means that if the unit is damaged or breaks after the included one-year warranty has expired, you will have the option of replacing your device for just $99. This is a nice incentive, and it may be enough of a promise to encourage you to give this brand a try.
Some Concerns
While there is a lot to like about this rangefinder, especially considering its modest price point, there are some concerns as well. Many of the previous buyers of this product have complained that it is not always accurate, which is obviously a major problem when it comes to a distance measuring device. After all, if you know that the rangefinder is inconsistent, how can you trust your yardage when you stand over the ball? You need to know that you have the exact yardage in mind when you make your swing if you are going to be able to commit to your shot.
There are a number of reviews that discuss the difficultly that can be experienced when trying to lock on to the pin in order to get a distance for an approach shot. Some have even stated that the unit did not work at all upon arrival. Certainly, these reviews are cause for concern, and may force you to think twice before placing your order. You are protected by some of the benefits offered by the company in terms of warranty and money back guarantee, but you don't want to have to deal with that hassle if it can be avoided.
The Bottom Line
Simply put, the Breaking 80 Golf Rangefinder is an option for those who would like to use a rangefinder without having to invest the kind of money required for the models from some of the more established brands in the market. If your budget for this purchase is making it hard to afford a high-end product from one of the big names, you may want to look into the Breaking 80 model. It is, after all, still a laser rangefinder that should be able to offer up distances in most cases.
With that said, if you have room in your budget, it is certainly smart to look at some of the higher-end models which are available. You might find that by increasing your budget by a modest amount you are able to land a rangefinder which has great reviews and a solid reputation. In some cases, investing a bit more money is more than worth the return, and many golfers will find that to be the case with rangefinders. Don't rule out the Breaking 80 Golf Rangefinder, but be sure to investigate all other options before making a choice.
Check out my best golf rangefinders guide for a more comprehensive rundown before purchasing a rangefinder.