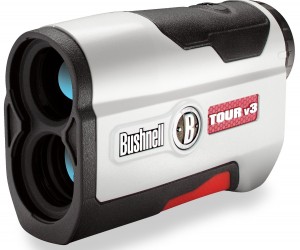 If you are shopping for a golf rangefinder and you value having a quality brand name on everything you purchase, Bushnell is likely the direction you are going to go with your choice. Sure, there are some other quality brand names in this business – Nikon, Callaway, and GolfBuddy are a few – but it is likely Bushnell that stands above the pack in terms of name recognition. When you see other golfers using laser rangefinders to measure distances at your local course, most of them are probably putting a Bushnell product to use.
The plus side of buying a Bushnell is the fact that you have their reputation and brand behind the product. They are known for making durable, accurate distance measuring devices, so you should be able to buy with confidence. However, they also have some of the most-expensive options in this market, meaning your budget may take a hit if you decide to go this route. However, if you opt for the Tour V3 Rangefinder, you can pick up a unit with the Bushnell name without doing too much damage to your bank account. Often available for under $200, the Tour V3 has all of the features you need with a price you can appreciate.
Fire at the Flag
While one of the benefits of using a laser rangefinder is the ability to measure distances to all sorts of items around the course, the main purpose of this kind of unit is to determine the distance to the flag. After all, you want to place your ball right next to the hole as often as possible, so why not fire right at it? Thanks to the Pin Seeker Technology that is used in this Bushnell rangefinder, you will be able to pick out the flag quickly and easily.
If you have used lesser rangefinders in the past, you may have noticed that it can be difficult to figure out when you are getting the flag and when you are measuring items behind the green. With the Bushnell, however, that worry is taken away because the rangefinder scans the field that you are viewing and picks out the distance that registers the pin itself. To let you know that you have picked out the right target, a slight vibration will run through the unit (called Jolt Vibration).
What does all of this mean? In the end, you have a device that can help you measure the distance to the flag in just a matter of seconds. Once you learn how to use the Bushnell Tour V3, and you gain just a bit of experience with it, you will find that measuring the distance to the flag couldn't be easier. Your pace of play will likely improve as a result of owning and using this product, and you shouldn't be surprised if many of your friends want to buy one after trying yours.
Impressive Range
No matter how far you are capable of hitting the golf ball, the Tour V3 is going to be able to get you a distance you can trust. The device is impressively able to measure up to 1,000 yards away, and it will pick up the pin from as far as 300 yards back in the fairway or on the tee. The viewfinder features 5x magnification, meaning it will be relatively easy to see the landscape up around the green when you are getting your measurement. Even big hitters who like to attack the hole from well back should have no problem at all getting the information they need to plan a successful shot.
Lack of Slope – A Good Thing?
As you may know, some rangefinders on the market today include a function that enables them to adjust your yardage based on the slope you are facing. In other words, yards will be subtracted when you are playing downhill, and they will be added when you are playing uphill. This is a handy function to have, especially if you tend to play hilly courses, as these adjustments can be hard to make accurately on your own.
However, if you play golf in tournaments, you may want to choose a rangefinder without this function. While some tournaments do allow the use of distance measuring devices, they typically do not allow the use of rangefinders with a slope function. So, if you opt for a model that adjusts for slope automatically, you may not be able to use that device legally in a competition. However, if you go with the Tour V3, you will have no such concerns. This model does not have the slope function, and will be legal in tournaments where distance measuring devices have been allowed.
A Strong Contender
Anyway you look at it, this rangefinder needs to be at least on your list of finalists before you pick out a distance measuring device to add to your gear. It checks nearly all of the boxes you could have in mind for your purchase – it falls into a reasonable price range for most buyers, it comes from a high-quality brand, it can measure up to 1,000 yards, it has technology to pick out the pin specifically, and it can be used with just a single hand. Unless you are insistent on having slope adjustment technology in your rangefinder, it is hard to imagine having a need that isn't going to be met by this product.
Obviously, before you buy you should at least browse through a number of other models to see if there may be one available that does a better job of meeting your requirements (or does so for a lower price). Thanks to the name recognition that Bushnell has built over the years, and the great reviews that have been given to this product in its time on the market, there are sure to be plenty of golfers who will decide that this is the best available option when it comes to a reliable distance measuring device.
Check out my guide on the best golf rangefinders before purchasing a rangefinder.