The Best Golf Instructors in NJ
Looking for golf lessons in NJ? Grumpy Gopher has the most comprehensive list of golf instructors and golf coaches in NJ.
Grumpy Gopher allows golfers to post reviews of golf lessons in NJ. If you've had a good experience with a golf instructor in NJ, leave a rating and a review to help fellow golfers in the area.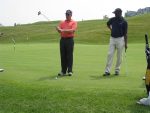 About:
Been teaching for over 15 years have my own web site www.mccarthypgapro.com, One hour is $100.00 and 1/2 hrs are $60.00 have lesson packages as well
Description:
An 18 hole facility located in Somerset County, NJ Driving is both Grass and Matts. Practice Putting Green. Golf lessons given inside at Golf Galaxy, East Hanover, NJ all lessons are done on a Half Hour bases $49.99