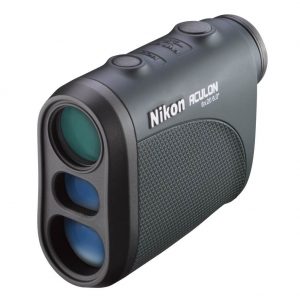 When searching for golf equipment, it is easy to focus only on products that are marketed toward golfers. This makes sense, of course – if you are going to buy something for your golf game, you are probably going to look where golf equipment is sold. However, if you only take that approach, you just might miss out on finding a great product that will work perfectly for your needs. Such is the case with the Nikon 8397 ACULON Laser Rangefinder.
Technically speaking, this is not a golf product specifically. Nikon doesn't market it as a golf rangefinder so much as an overall laser rangefinder that is great for measuring distance. However, when you start to get into the specs of the product – which we will do below – you will see that it does basically everything you need it to do out on the course. Given its ability to handle the tasks asked of a golf rangefinder, and its modest price point, this is a unit that is worth consideration to be sure.
Features
Very compact design – 91x38x73mm
Weighs 158g
ACULON range finding systems
Multilayer optic coating
[wpsm_column size="one-half"][wpsm_pros title="PROS:"]
Accurate
Portable
One hand usage
6x magnification
20mm lens
Nikon optics
Offers readings in yards or meters
Includes carry case
[/wpsm_pros][/wpsm_column][wpsm_column size="one-half" position="last"][wpsm_cons title="CONS:"]
Requires a steady hand
Fragile
[/wpsm_cons][/wpsm_column]
[wpsm_button color="blue" size="medium" link="http://amzn.to/1UiXmkg" icon="none" class=""]See More Reviews[/wpsm_button]
The Nikon Name
Before even getting into the specs of this particular rangefinder, it is worth pointing out just how much respect the Nikon brand name should garner when thinking about buying a distance measuring device. This is a brand name that has operated in the world of cameras and other optical devices for many years, and it is associated with quality and reliability. While there are other trusted brand name in the golf rangefinder business as well – Bushnell, specifically – there is a lot to be said for purchasing a product that has been made by a brand as well-respected at Nikon.
Great Specs for Golf
As mentioned above, this isn't a rangefinder that was necessarily designed with golf in mind. That being said, it does have specs that fit in nicely with a golfer's needs. To start, it is a compact unit that will not get in your way out on the course. Measuring less than 4'' long, the rangefinder can easily be operated with one hand, and it can be put away quickly when you are done taking your measurement. A big, bulky item would not be a good fit for a golfer, but that is not a problem in this case. Also, measurements are taken with just the push of one button, again making this unit easy to use with a single hand.
In terms of range, this laser has all that you need for golf purposes. It will measure distances as short as just six yards, yet it can go all the way back to a full 550 yards as well. Your yardages will be displayed through the viewfinder in one yard increments, so you will always have an accurate number to work from when you are getting ready to play your shots. Not only will you have an accurate yardage, but you will also get that yardage quickly. The technology Nikon uses in this rangefinder is great at delivering distances in just a fraction of second, meaning you don't have to worry about holding up the group behind you while trying to determine a number.
Finally, this unit has 6x magnification, meaning you will get a great look at the target while scoping out your distance. This is one of the underrated features of using a rangefinder – having a chance to see what the green looks like in greater detail before hitting your shot. Looking through a high-quality viewfinder such as the one included here will give you the chance to notice things about the green and surrounding area that you might not have seen with the naked eye.
One Specific Drawback
So far, so good when it comes to the Nikon 8397 ACULON Laser Rangefinder. It is certainly a quality product from a respected brand, and it also has almost all of the specs that you would be looking for in a golf rangefinder. There are a couple of things that are lacking – and one of those things, in particular, may cause you to think twice.
Many of the modern laser rangefinders available today which are marketed toward golfers have a feature which will work to pick out the pin from the surrounding environment. Those rangefinders work by selecting the closest yardage from those available, assuming that other readings are coming from items behind the green. On the Nikon, however, such technology is not used. In fact, this unit employs the opposite technology, allowing you to read the farthest point within the view of the device, which is helpful for things like hunting but not so much for golf.
Without the technology to seek out the pin specifically, you may have a hard time always getting an accurate yardage to the hole itself. Also, there is no adjustment for slope included with this rangefinder. That omission will likely not be as big of a factor for most players, as the use of slope functions is generally banned in golf competitions anyway. However, it is something to keep in mind, as you will have to look elsewhere if that is a function you were hoping to have in your next rangefinder.
Buying Advice
There is no doubt that this rangefinder can be used effectively for golf. Plenty of previous buyers already use theirs for golf with great results, so you can rest assured that it will work for that application. Is it the perfect, purpose-built rangefinder to take with you out onto the course? No – the lack of the features mentioned above mean it will always come a little short of some of the other models that are meant to land in golf bags.
However, when you factor the price into this equation, you are left with a very interesting dilemma. The Nikon 8397 ACULON Laser Rangefinder is a quality distance measuring tool, and it sells for well less than many of the golf-specific rangefinders that you will see. If getting a good deal is high on your list, and you are willing to do without a couple of golf features, you will likely be very happy with the Nikon.
Check out my guide on the best golf rangefinders before purchasing a rangefinder.