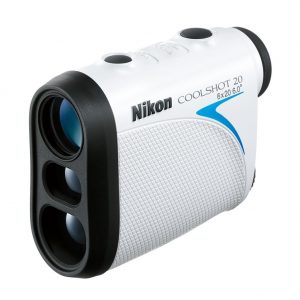 The Nikon brand name is not one that is necessarily associated with golf so much as it is with optics in general. However, that has started to change, as Nikon has paid more and more attention to its golf-specific lineup. The Coolshot 20 is a great example of the importance that this famous brand is paying to the sport of golf. With plenty of features aimed to impress the average golfer, you will likely find the Coolshot 20 to be a strong contender for your business.
There are a number of reasons you should consider this laser rangefinder when picking out a distance measuring device for your bag. Those reasons will be highlighted below, and they are all in addition to the reputation that Nikon carries as a brand. When making any kind of purchase, you always want to know that the company in question is going to stand behind its products – and you can expect nothing less from Nikon. With a two-year warranty on the Coolshot 20, you can rest assured that you will get your money's worth if you go in this direction.
Features
Extremely compact design – 40x109x71mm
Only weighs 127g
Target priority settings
8-second continuous scanning
[wpsm_column size="one-half"][wpsm_pros title="PROS:"]
Weatherproof, can be used in any conditions
Can fit into your pocket
Can determine range for any object in site (within range limits)
Can be operated with one hand
Includes a protective case
[/wpsm_pros][/wpsm_column][wpsm_column size="one-half" position="last"][wpsm_cons title="CONS:"]
Optics not as impressive as more expensive models
Sometimes struggles to produce readings in extreme light conditions
Need a steady hand for accurate readings over 200 yards
Battery chamber cap falls off from time to time
[/wpsm_cons][/wpsm_column]
[wpsm_button color="blue" size="medium" link="http://amzn.to/1TNOKDB" icon="none" class=""]See More Reviews[/wpsm_button]
Everything You Need
The demands of a golfer when it comes to a distance measuring device are really quite simple. First and foremost, it needs to measure distances accurately time after time. Second, it needs to be able to measure with a large enough range to handle all of the shots that you are going to face out on the course. Third, it needs to be durable enough to stand up to the inevitable abuse that it will take during your rounds of golf. You aren't going to be hitting your rangefinder with your seven iron, of course, but it is still likely to get bumped, dropped, and banged from time to time.
Fortunately, the Coolshot 20 does a great job of checking off all of these boxes. It possesses a range that goes from 6 yards all the way out to 550, so you should be able to get the yardage you need for any shot that comes up during a round (if you are more than 550 yards out, you should probably just swing away). It is built with quality construction to help it stand the test of time as it comes in and out of your bag, and it comes with a nylon case that can be attached to your golf bag if you so choose.
It's Tiny!
One of the biggest advantages to choosing this rangefinder is the compact design of the unit overall. Weighing in at only 4.4 ounces, you will be impressed with how little space this device takes up in your bag or in your cart. Also, thanks to its small design, it will be easy to fit the rangefinder in just one hand, meaning you can pick it up and laser the distance to your target in just a moment. Since you will be frequently holding on to a club in one hand, it is a nice advantage to be able to take your measurement with only your free hand and the push of one button.
Ready for the Elements
Do you play all of your golf under bright sunshine? Didn't think so. The reality of playing golf is that sometimes you are going to have to play in less-than-ideal conditions. When that is the case, the Nikon Coolshot 20 will be ready for the challenge. This device is rainproof, meaning you can grab it from your bag even as the sky is watering the golf course. It would be great to play only dry-weather golf, but that simply isn't reality. By choosing a model such as this that can be used in the rain without a problem, you can keep your game on track even when you have to deal with a quick shower.
In addition to the ability to use this device in the rain, you can also rely on it when extreme temperatures take place on the course. The unit is rated for reliable use from 14F all the way up to 122F, so the temperature should not be a concern with regard to your laser rangefinder. Of course, the decision to actually play golf when the temperatures are near either end of that range would likely need to be questioned, but it won't be your rangefinder that is the problem at that point.
Continuous Scanning is Helpful
Pretty much every rangefinder allows you to press a button in order to have the distance displayed through the viewfinder. However, the Nikon Coolshot 20 goes a little bit farther – it allows for 8 seconds of scanning during which the distance that you are measuring will be displayed continuously in the viewfinder. So, you can scan the terrain in front of you with your finger down on the button to find a variety of different yardages all at once. This feature is a tremendous advantage, especially if you are playing a course for the first time.
One great example of the usefulness of this feature is when you are trying to determine the overall shape of the green complex you are facing. Is the bunker in front of the green right up next to the putting surface, or is there some rough in between the two? By scanning from the flag down to the bunker back and forth, you can gain a good understanding of how the overall green complex is going to look when you arrive. You can never have enough information in terms of planning your golf shots, and you will find that the scanning mode on this device helps you get a ton of valuable info.
In summary, it is hard to find much to complain about with regard to the Nikon Coolshot 20. It is offered at a price that is comparable to other quality rangefinders on the market, it is compact in design and stands up to the elements, and it comes from a respected brand. If you are seeking out a good overall rangefinder which will deliver accurate yardage time after time, the Coolshot 20 is a worthy pick.
Check out my guide on the best golf rangefinders before purchasing a rangefinder.