The Most Popular Golf Courses in Las Vegas
You don't need to be a Las Vegas high roller to play quality golf courses during your next Vegas vacation.  Los Prados Golf and Country Club boasts a picturesque layout at a reasonable price.  18 holes cost $28 – $45 and twilight rates begin at 2:30 p.m., setting players back only $20.
Short Track
Tucked away in the Los Prados Community in the northwest corner of the Las Vegas Valley, Los Prados Golf and Country Club is a hidden gem less than 30 minutes from the strip.  Los Prados plays to a par 70 and is a short track, measuring just 5,450 yards from the Championship tees.  This allows the pace of play to be just under 4 hours.  What Los Prados lacks in length, it makes up for with tight fairways and slick greens.  Due to its length, players hitting their driver accurately can have wedges into many greens, but you may want to leave the driver in the bag.  Los Prados has some interesting holes with fairly tight fairways, making club selection off the tee something to consider a bit more than on longer and open courses.
Know Your Yardage
Leave your distance finder at home, all the carts at Los Prados Golf and Country Club are equipped with GPS that tell your exact yardage.  The course rating is 64.8 for men playing from the championship tees and the slope is 103.  It's a wonderful golf experience and offers something for all skill levels.
Are you looking for a relaxing day on a quality desert golf environment without breaking the bank?  Consider making the 30 minute drive from the strip to Boulder City Golf Course.  Residents pay $25 – $35, including a golf cart, but if you are coming from out of town get ready to pay $51.  Here's the good news: twilight rates cost residents $20 and non-residents $21 – and start after 1 p.m.  That's hard to beat.
Traditional & Open Layout
Created in 1973, and designed by Billy Casper and David Rainville, Boulder City Golf Course has a traditional open layout featuring beautiful tree-lined fairways and gorgeous mountain views.  Boulder City Golf Course is well-maintained providing putting surfaces that are fast and true.  With rough that is a little thick, players will be challenged by missing fairways, and here are also several water features, but they only come into play a handful of times.
A Fair Challenge for all Skill Levels
Boulder City is a par 72, playing at 6,542 yards from the blue tees.  Men also have the option to play the white tees, which is more than 400 yards shorter.  The course rating is 70.7 for men playing from the back tees and the slope is 123.  Not too difficult, but offers enough challenges from tee to green.  A stroll around Boulder City Golf Course will take no more than 4 ½ hours for the average player.  Be aware that carts are optional, which can slow down pace of play, but you can't ask for much more from a municipal golf course.
Want to get away from the bright lights and glitz of the Vegas strip?  Escape to Desert Pines Golf Club, 5 minutes off the strip, and enjoy more than 4,000 majestic pine trees lining the fairways, bringing an almost Carolina feel to the desert.  Depending on when you tee off, non-residents will pay about $89 – $142.  Residents of Clark County get a significant break and can find times to play for as little as $31.
Desert Pines plays to a par 71 and is 6,810 yards from the tips.  The course rating from the back tees is 70.6 and the slope is 125.  Players also have the option to play either the middle or forward tees that shorten the course tee to green to 6,494 and 5,873 yards.  Desert Pines Golf Club is a Dye-designed course featuring large, undulating bent grass greens designed after those at Augusta National Golf Club.  There are no forced carries at Desert Pines, but water comes into play throughout the course adding additional challenges and excitement to your round.
Practice Center
Work on your game before the round at Desert Pines' climate controlled, two-tiered covered driving range spanning more than 50 hitting stations.
Surf the Earth
Desert Pines offers players a different way to get around the golf course.  You can walk, ride or surf!  As a way to reduce turf wear, increase pace of play, and add a new dimension of fun, Desert Pines has GolfBoards, where solo riders stand upright and choose between two speeds.  Low speed is a gentle 5 mph and high speed offers riders a maximum of 10 mph.  According to Golf Digest, "If every golf course offered GolfBoards, golf would be the most popular sport in the world."  Have fun!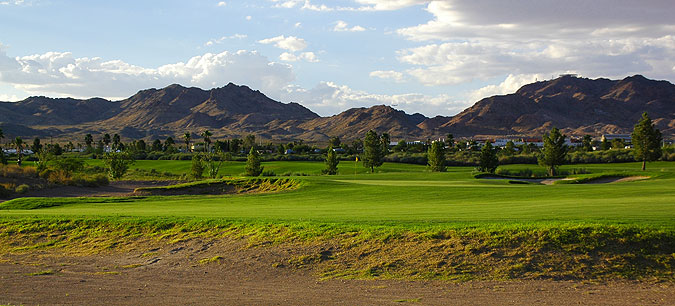 Boulder Creek Golf Club truly has something for all golfers.  It offers three 9-hole courses (Desert Hawk, Coyote Run and Eldorado Valley) and six teeing grounds stretching from 4,900 to 7,480.  From the tips, the rating is a challenging 75.8 with a slope of 142.
Golf carts come with ball/club washers and GPS to give exact yardage tee to green.  In addition, all sprinkler heads are measured to the center of the green giving players plenty of information to make informed club selections, but make sure you grab a yardage guide booklet in the pro shop.  You'll be happy you did – it's incredibly helpful if you want to navigate all of the arroyos and desert waste areas.  Non-residents can find reasonable rates around $40, and residents can play for as low as $25.
Now let's take a closer look at each one of the three 9-hole courses that make up Boulder Creek Golf Club.
Desert Hawk
The most scenic of the three 9-hole courses, Desert Hawk takes players through a rolling terrain and tremendous water features on the first and final holes.
Coyote Run
Coyote Run is arguably the most difficult of the three 9-hole courses at Boulder Creek.  It hosts two par 5's playing at 579 and 635 yards respectively.  You'll want to pay close attention to your yardage guide on Coyote Run's final hole.  A big drive can clear the water, but it may not be worth the risk if you are forced to layup on your approach shot.
Eldorado Valley
Eldorado Valley is the most recent addition to Boulder Creek and its layout is similar to the original 18.  What sets it apart is all of the desert wildflowers and natural growth, but keep your head on a swivel while playing Eldorado Valley.  It's built nearby an air strip that specializes in parachuting.  You will likely see groups floating down to earth near the course.
Chimera Golf Club at Tuscany offers players three teeing stations, Pegasus, Serpent, and Goat.  From Pegasus, or the tips, players are looking at a par 72 playing at 6,906 yards with a 72.4 rating and a challenging 132 slope.  Henderson County residents will pay $20 to $65.  Non-residents can expect a higher bill, anywhere from $45 to $128.
Player Friendly Layout
Chimera Golf Club is known for its player friendly layout, but don't mistake "player friendly" with easy.  Chimera is beautifully landscaped with a unique blend of palms and pine trees.  Although the wide fairways provide easier landing areas off the tee, the greens are well protected by arroyos and bunkers that make for challenging approach shots.  For the aggressive and longer players, a number of short par fours allow for a few eagle opportunities if you're willing to take on deep bunkers, water and cut the corner on the occasional dogleg.
Picturesque Views
Designed in 2003, Chimera Golf Club is a quick 25-30 minute drive from the Las Vegas strip.  Chimera is nestled into the foothills of the Southern Nevada Mountains, boasting pristine conditions and unobstructed views of the Las Vegas skyline, strip and snow-capped Mt. Charleston.    

Highland Falls Golf Course is one of the three 18-hole courses in the Sun City Golf Complex located in the North Las Vegas' Summerlin community.  Designed by Billy Casper and Greg Nash, Highland Falls offers unrivaled panoramic views of the Las Vegas Valley, the strip and distant mountain ranges because it lies at an elevation of more than 3,000 feet.
It plays to a par of 72, has a 70.1 course rating, 119 slope and measures 6,512 yards from the championship tees.  Prices at Highland Falls vary, but non-residents can expect to pay $35 to $89.  Residents will be charged anywhere from $30 to $62 depending on when you tee off.
Rolling Hills
Rolling hills and elevation changes throughout Highland Falls offer many risk-taking shot opportunities.  Manicured fairways and medium sized greens without much undulation provide players with many makeable putts.  However, the greens are well protected and require precise iron places on a few of the holes creating challenging scoring opportunities.
Other Amenities  
Thirsty?  You won't find drinking water on any of the holes, the beverage cart can be hard to come by, and the pro shop/restaurant have been known to close a bit on the early side.

Palm Valley Golf Course is the original course out of the three 18-hole courses in the Sun City Golf Complex located in the North Las Vegas' Sumerlin community.  Palm Valley shares the other Sun City Golf Complex's excellent conditions when it comes to its fairways and greens, but its layout has little elevation changes, which makes it extremely walk-able and an ideal challenge for all levels.
The tips play to 6,849 years with a 71.6 rating and slope of 123.  Beginners will be able take advantage of easier tee stations that play at 5,757 with a 66.6 rating and slope of 112.
Scoring Opportunities
Despite being the longest of three courses at Summerlin, Palm Valley has its share of scoring opportunities.  The opening and closing holes at Palm Valley Golf Course stretch out to about 530 yards but are wide open, which allow the possibility for players to get home in two if they play smart shots and avoid the water and bunkers.  The other two par 5's are medium length holes that players can also take advantage of.
Fair Price
Palm Valley may be the most expensive of the Sun City at Summerlin Golf Complex, but it's more than fair for this track.  Non-residents will pay $89, but can find rates at $35 later in the day.  Residents will pay anywhere from $62 to $25.50.
Eagle Crest Golf Course is an executive course and one of the three Billy Casper and Greg Nash designed 18-hole courses in the Sun City Golf Complex located in the North Las Vegas' Sumerlin community.  Eagle Crest is great for beginners. The course rating is 60.6, plays to a par 60 at 4,067 yards.
Eagle Crest is a 25 minute cab from downtown Las Vegas, offering stunning birds eye views of the strip.
Executive Golf Course
Make no mistake, Eagle Crest is no pitch and putt golf course.  As the executive course at Summerlin, all holes are par 3 or 4's.  Eagle Crest boasts challenging greens, is one of the nicest executive courses around and is famous for its pace of play.
Good Value
Non-residents will pay $40 for greens tees, but can find deals later in the day as low as $30.  Residents get a small break on the price and will pay about $5 less than non-residents.  If you are looking for a mind blowing golf experience, this isn't it, but if you want a Billy Casper/Greg Nash design for an affordable price, Palm Valley Golf Course is the right place.

Painted Desert Golf Club is a wonderful test of golf designed by Jay Morrish that consistently rates as one of the best maintained courses in the area.  Painted Desert is a par 72 playing at 6,781 yards with a 71.8 rating and 129 slope.  Located only 15 minutes from the strip, Painted Desert offers competitive prices varying from $20 to $99.
Ushering in Desert Golf
Complex greens, lush fairways and playable desert areas guard meandering fairways.  Simply put, Painted Desert is desert golf at its best.  The par 3's challenge players shot making and accuracy with holes ranging from 148 to 227 yards, including the 187-yard 8th featuring water running along the entire left side to a raised green.  But Painted Desert prepares its players with GPS on each golf cart, providing accurate measurements to every pin anywhere on the hole.
Elevated Tee Boxes
Elevated tee boxes will give players plenty of different looks with picturesque views of Mt. Charleston, Sheep Mountain and the strip that will not disappoint.  Beware the seemingly open layout.  The lack of trees can deceive and fool aggressive players who want to swing for the fences, but can quickly be asking themselves: "How did I end up out of bounds?"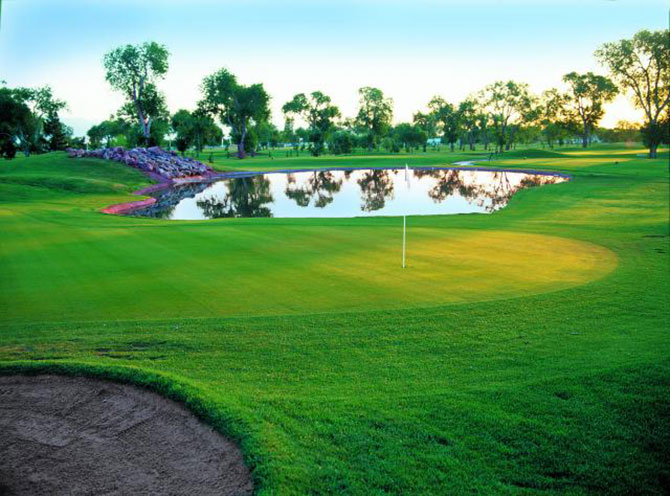 Feeling nostalgic for the 'good ole days' in Las Vegas?  Check out the Las Vegas Golf Club.  Opening in 1938, it's Clark County's oldest public course.
Ideal For Beginners
Las Vegas Golf Club features 6,631 yards from the tips, playing to a par 72.  The course rating is 71.8 and has a 117 slope.  It's not the most challenging test, but the price is right.  The resort rate is $39 to $55 and residents only pay $20 to $33.  The fairways are mostly flat with large and forgiving landing areas that are ideal for beginners.
Traditional Layout
Trees line most fairways at the Las Vegas Golf Club, but leave plenty of recovery for arrant tee shots.  The traditional, player friendly, layout will not challenge scratch golfers but its slightly undulating putting surfaces and simple green complexes allow for relatively simple approach shots.