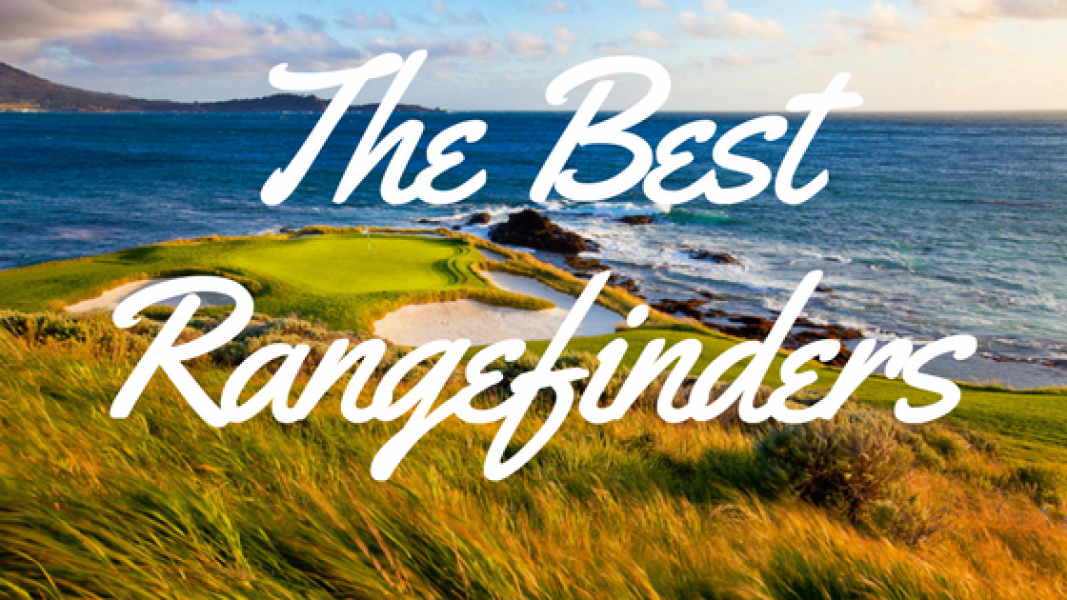 (Updated 5/29/2017)
Golf rangefinders give golfers the ability to accurately gauge distances on the golf course. If you're looking to purchase the best golf rangefinder for your budget and requirements, this guide to help you narrow down the list of the best golf rangefinders is for you.
What are the best golf rangefinders?
After testing a good number of the top rangefinders on the market and combing through hundreds of reviews of the best golf rangefinders these are my picks.
Bushnell Pro X7 Jolt Slope Rangefinder – The best rangefinder on the market.
Bushnell Tour V3 Jolt Standard Edition – The best value rangefinder on the market.
TecTecTec VPRO500  – The best rangefinder for the money.
What is a golf rangefinder?
A golf rangefinder is a distance finder for the golf course. There are a variety forms, but the basic concept is a tool that helps a golfer determine distances on the course. The most common distance golfers want to know is the length to the pin, typically in yards.
Besides distance to the pin, golfers also want to know:
Distance to a bunker
Distance to a water hazard
Distance to the front of the green
How long until the beverage cart returns (Unfortunately we are not aware of a solution for this one yet.
A rangefinder is one of the easier ways to improve your golf game. Why? Well knowing accurate distances goes a long way in helping with club selection. Sure, it might not help your swing, but knowing the right club to use out on the course provides an advantage. Some rangefinders, specifically laser rangefinders can help you dial in your yardage when you practice at the driving range.
My Pick for the Best Golf Rangefinder
We scoured the internet and narrowed the down the reviews and specs to these rangefinders.
Below we have listed the top golf laser rangefinders for the money. These are the golf rangefinders with the most positive reviews on the top golf websites. You will find a video for each along with the features, pros, and cons to help you in deciding if one of them is right for you.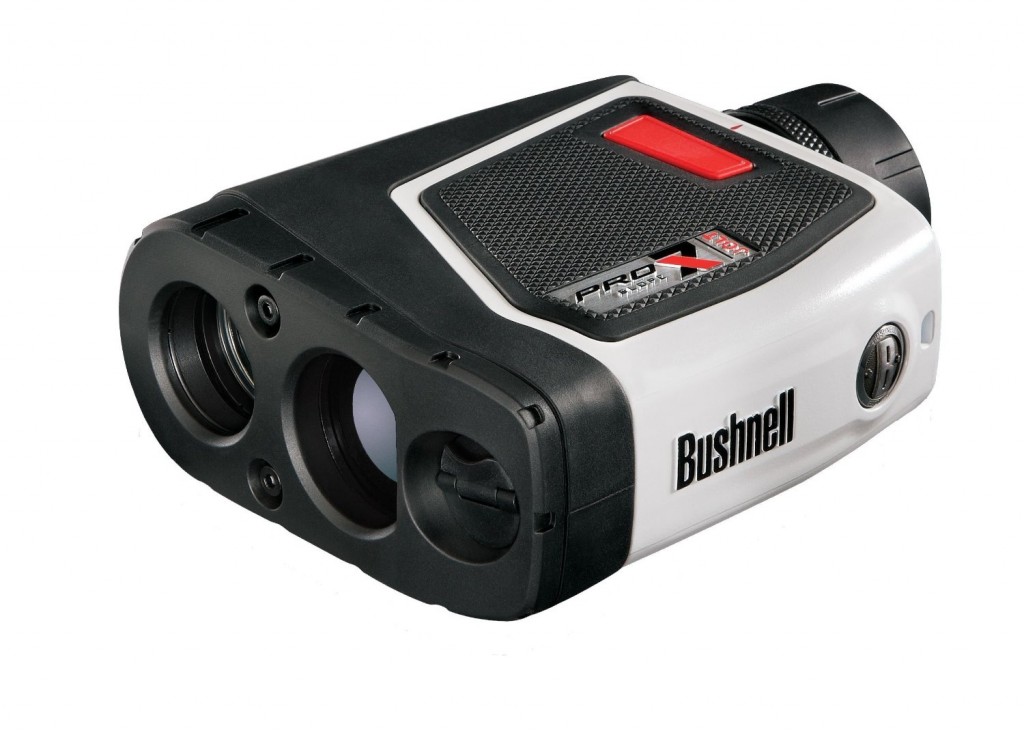 If you want the best golf rangefinder on the market, you need to check out the Bushnell Pro X7 Jolt Slope Rangefinder.  Yes, it is expensive  – it retails for $500 – but it has the features to back up the price.
This rangefinder can measure distances up to one mile away. You will need a really nasty hook to take full advantage of this insane range. The only golf application I can think would require this type of range is seeing how far away the beverage cart is.
It can lock on to the flag from up to 550 yards away, which is handy for when you are thinking about driving the green.
The viewfinder offers 7x magnification, the product is fully waterproof, and there is a limited 2-year warranty.
The Pro X7 Jolt will give you a measurement with precision of up to half a yard.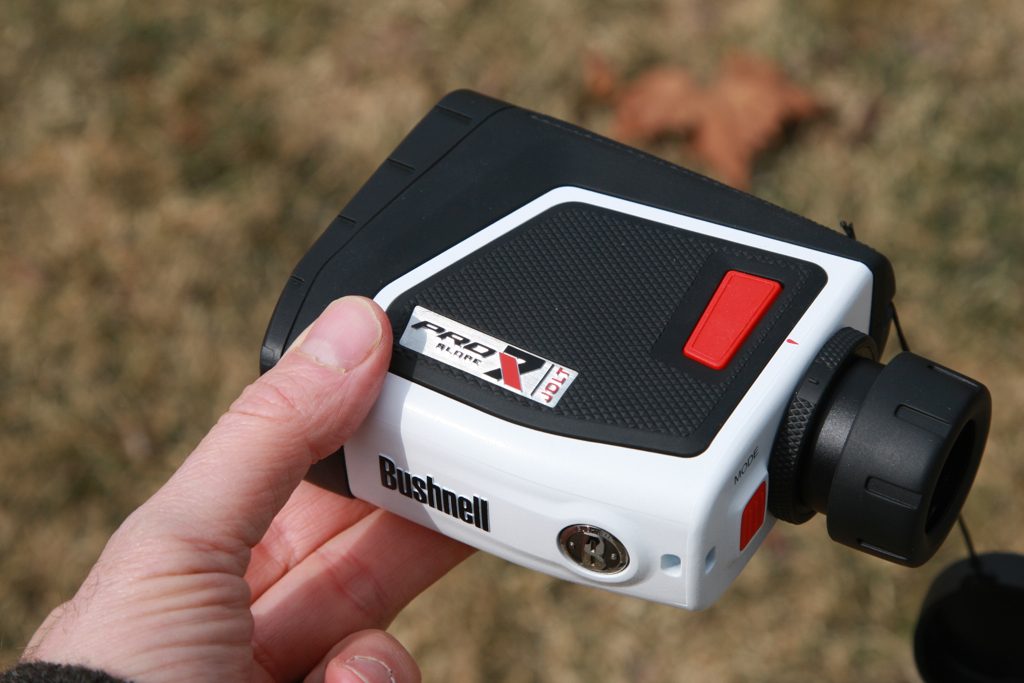 Feeling the Jolt
If you have used a laser rangefinder you know one of the main drawbacks is the uncertainty about what you are actually measuring. Are you measuring the distance to the flag or something behind the green instead.
To eliminate that uncertainty, Bushnell uses "Jolt Technology". When the rangefinder does lock on the flag, you will feel a slight vibration in the unit to tell you that you are getting the correct measurement.
Instead of measuring two or three times to confirm your number, you can just measure once, feel the Jolt, and move on with your shot.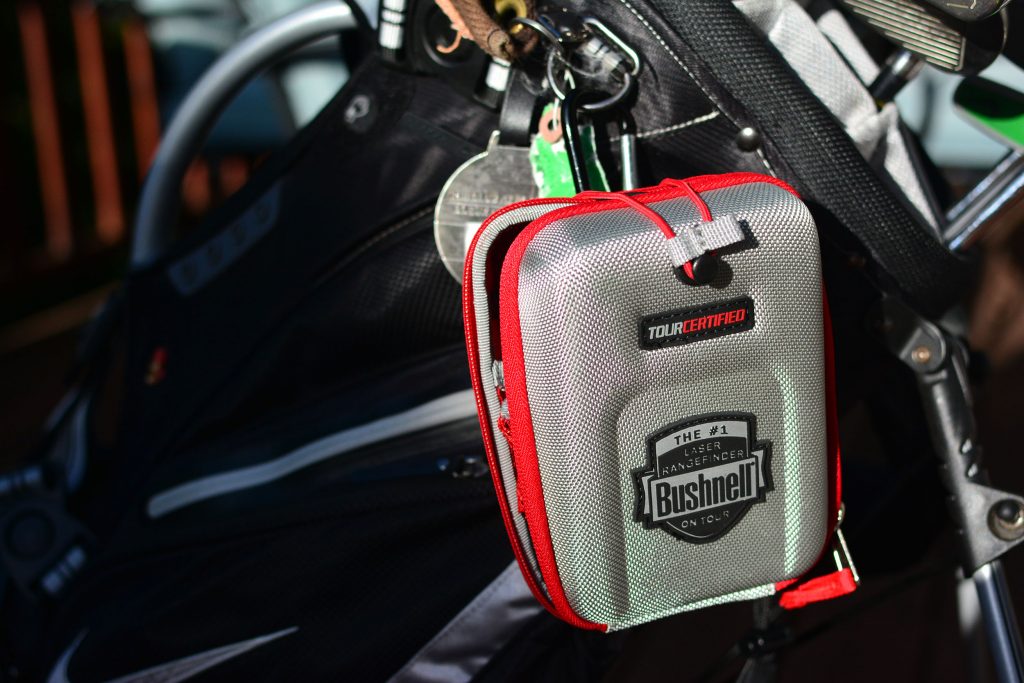 Get a Good Look
The Bushnell Pro X7 has "Vivid Display Technology". This means an MBA found a fancy way to say the view finder has improved brightness and resolution.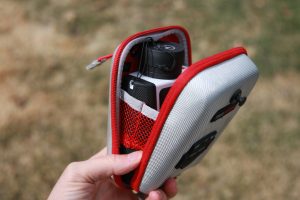 Slope Calculations
In addition to measuring basic distance, this model can adjust your yardage automatically to factor in the effect of any changes in slope.
So, if the shot you are measuring is going to be played uphill or downhill, the Bushnell Pro X7 will make the necessary adjustments to the number and provide you with a distance needed to hit the target successfully.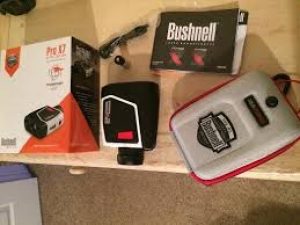 Waterproof Design
The Bushnell Pro X7 is designed to be fully waterproof.
PROS:
Jolt technology
High-quality image in the viewfinder
Accuracy down to a half yard from inside of 125
CONS:
Price, no matter how you look at it this is a lot to drop on a rangefinder
Slope feature makes the rangefinder illegal in tournament play
The Best Rangefinder for the Value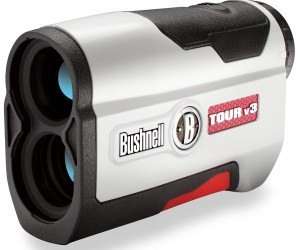 The Bushnell Tour V3 Jolt rangefinder allows you to make accurate measurements from 10 to 1000 yards with roughly 1-yard accuracy from 300 yards.
The most important feature of the Bushnell Tour V3 is it is legal for tournament play!
Bushnell is known for making durable, high quality and accurate rangefinder. You can buy with confidence. However, because of this Bushnell gear is on the upper end of the market. Often available for under $200, the Tour V3 has all of the features you need with a price you can appreciate.
Pin Seeker
If you have used lesser rangefinders in the past, you will know it can be difficult to figure out when you are getting the flag and when you are measuring items behind the green.  To alert you when the rangefinder is locked in on the pin, a slight vibration will run through the unit (called Jolt Vibration).
What does all of this mean? In the end, you have a device that can help you measure the distance to the flag in just a matter of seconds. Once you learn how to use the Bushnell Tour V3, you will find that measuring the distance to the flag couldn't be easier.
Your pace of play will likely improve as a result of the ease of use.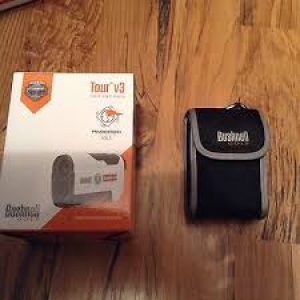 Impressive Range
The Tour V3 is able to measure up to 1,000 yards away, and it will pick up the pin from as far as 300 yards back. The viewfinder features 5x magnification, meaning it will be relatively easy to see the landscape up around the green when you are getting your measurement.
Lack of Slope – A Good Thing?
Some rangefinders are able to suggest the best yardage to play based on how the landscape of the course will impact the distance. In other words, yards will be subtracted when you are playing downhill and will be added when you are playing uphill.
This is an extremely useful feature when playing courses with elevation changes.
If you play in tournaments, you may want to choose a rangefinder without slope. While some tournaments do allow the use of distance measuring devices, they typically do not allow the use of rangefinders with a slope function. So, if you opt for a model that adjusts for slope automatically, you may not be able to use that device legally in a competition. The Tour V3 does not have slope so it may be allowed in tournament play.
Features
Extremely compact design – 91x38x73mm
Weighs 187g
Incorporates pinseeker function
Includes jolt function to ensure the units locks onto the flag
PROS:
Extremely accurate
Ergonomic design features
Long lasting 3v battery
Offers readings in yards or meters
Legal for use in tournament
Includes beautiful carry case
CONS:
Very fragile
Pinseeker function only accurate up to 200 yards
Delicate pin in battery compartment can break easily rendering unit useless until fixed
The Best Rangefinder for the Money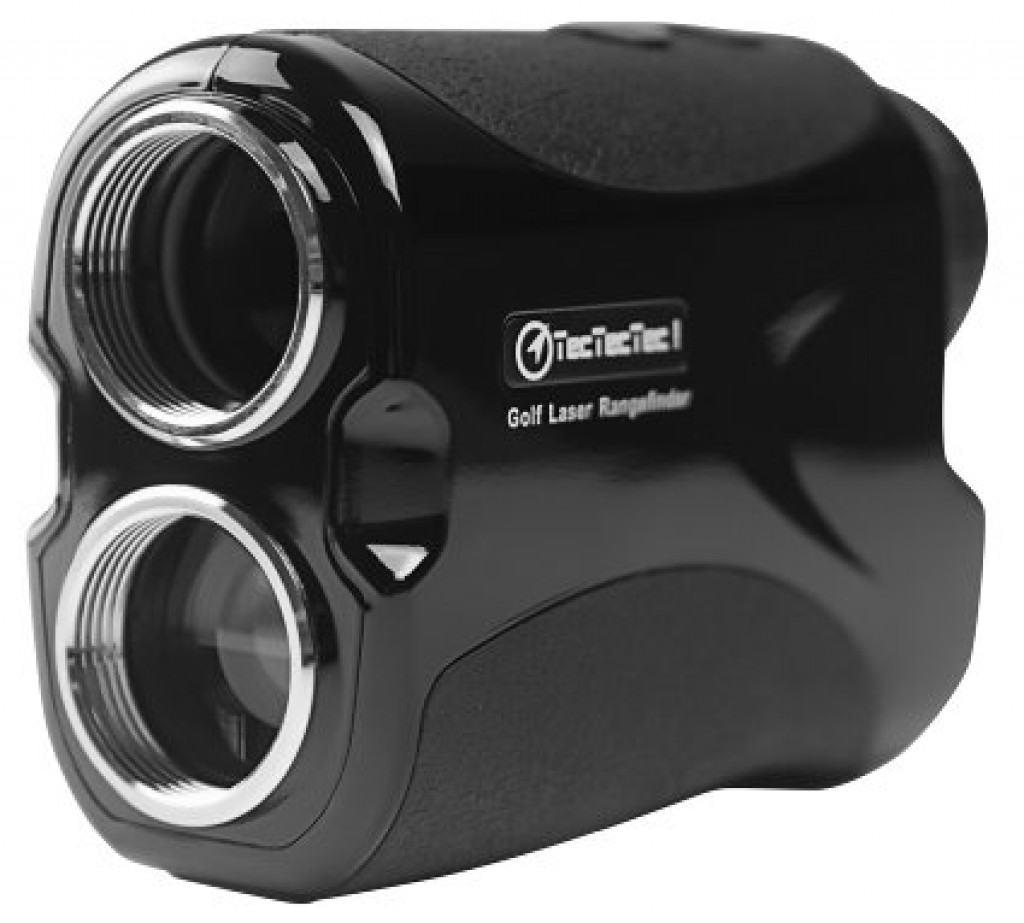 This rangefinder boasts measurements to within 1 yard from up to 550 yards away with excellent 6x magnification, kept clear and in focus through incredible performance from its optics.
If you are budget-minded and want to keep the purchase price on your rangefinder to a minimum while still getting a quality piece of gear, the TecTecTec VPRO500 is worth careful consideration.
Smart Savings
Saving money is nice, but buying cheap crappy golf gear sucks.
The VPRO500 does not have all of the bells and whistles of the top-line rangefinders but it will give you accurate yardage from your ball to the target, which at the end of the day is the main feature golfers are looking for in a rangefinder.
 
Compact Design
With a total weight of just 185g, you won't be adding anything noticeable to your bag. The rangefinder is designed to be dust and water resistant, and it can easily be used with a single hand. With just a little practice, you will be able to pick this unit up, measure your target quickly, and put it back down to proceed with your shot.
Money Back Guarantee
TecTecTec may not be a brand you have learned to trust. To help with this, the company offers a 100% money back guarantee. If you aren't happy with your purchase for any reason, the unit can simply be returned for a full refund. With this protection in place, it is much easier to try out a model that comes from a brand which isn't as well-recognized as some of the others on the market.
Features
Compact design – 104x72x41mm
Lightweight – 185g
Pin sensor technology for measuring objects that overlap (golf flags, trees or hazards)
Accurate to within 1 yard over a 500-yard distance
PROS:
Fits easily into your golf bag
Very easy to use, requires simple fingertip operation
Offers a continuous measurement mode
Includes many free accessories including a pouch, battery, cleaning cloth
One year manufacturer warranty
CONS:
Lens fogs up on occasion
Sometimes struggles to lock onto the pin
Only available in black
What type of rangefinder is best for you?
There are a handful of solutions available on the market. Which golf distance finder is best for you, is up to your personal preference.
Types of Golf Distance Finders:
GPS Devices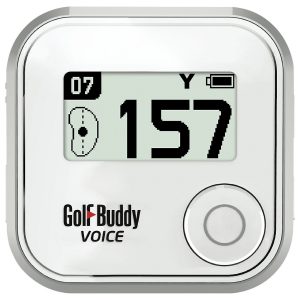 There are a couple popular types of GPS devices on the market. I break them down into two categories Handheld Devices and Wearable. They all essentially serve the same purpose with the difference being how the course details are displayed and how you carry them around with you. Handheld devices can be carried in a pocket or on the golf cart where as wearables like a GPS Golf Watch are worn on your wrist or wearables like a Skycaddie may be worn on the brim of a hat.
Smartphone Apps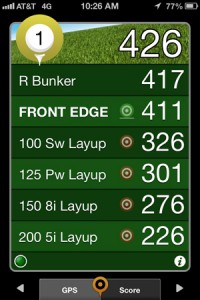 Similar to Google Maps or other navigation apps on your smartphone, there are GPS Golf Apps which allow you to gauge the distance to the pin or course features using the builtin GPS on your iPhone or Android device. Are you looking for the cheapest option? The cheapest form of golf rangefinder is a smartphone app.
Laser Rangefinders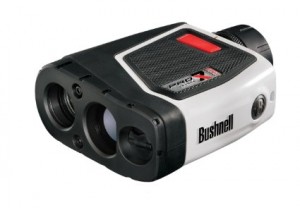 Typically what people think of when they hear golf rangefinder are laser rangefinders. These look similar to binoculars. You use an eyepiece to aim a laser at the object you want the yardage to. These devices are typically more accurate than GPS Devices and Smartphone apps but are also more difficult to use.
Golf GPS Devices vs Laser Rangefinders
Golf GPS Devices and laser rangefinder serve the same purpose but use different technologies. The technology behind each allows for slightly different benefits.
The costs are essentially the same. A GPS watch like the Skygolf Skycaddie Linx sells for $140 on Amazon and the Nikon Coolshot 20 is $180.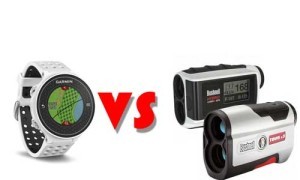 GPS Devices give the yardage to the front, middle and back pin positions. Laser Rangefinders can the exact yardage (within a yard or two) as long as no obsticals obsruct the view.
GPS Devices rely on maps that are loaded onto a server somewhere whereas rangefinders can give yardage from actual course conditions.
This also allows you to use a laser rangefinder while out on the driving range or during practice sessions.
Instead of guessing the yardage of your target on the range or trusting the course's yardage markers, you can know within a yard or so the exact yardage using a laser rangefinder. This is one advantage for laser rangefinders over GPS watches or GPS golf apps.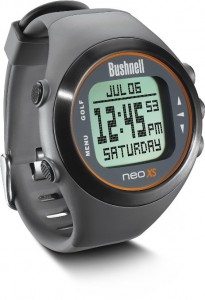 A GPS watch is fairly easy to use. All you need to do is load the course and the watch does the rest by advancing hole by hole. When you are at your ball, check the watch for the yardage. Operating a laser rangefinder is a bit more involved. It takes a bit of practice and precision to aim the rangefinder at your target and not mistakenly capture something in the foreground/background.
As long as your capture the correct target, a laser rangefinder will be more accurate than a gps watch for golf. Instead of relying on satellites and previously loaded front, middle and back pin locations you are dealing with actual course conditions at the time of play.
Laser rangefinders also have the ability to calculate slope… if that's your thing. As far as I am aware, no GPS devices on the market are able to accurately calculate slope into a suggested yardage.
Click here for our list of the best GPS Golf Watches on the market.
Features to consider when buying a rangefinder
Features to consider that could influence your choice are brand, size, shape, magnification, range/distance measured and accuracy, ease of use, and how you want to carry it around the course.
Accuracy
Of course, you want your rangefinder to offer you an accurate yardage each time you measure the distance to the flag (or another object). Fortunately, these devices are highly accurate across the board. The majority of rangefinders on the market today are accurate to at least within one yard either way – and many are more accurate than that. Compare this accuracy to your own game – are you able to dial up distances down to the half yard? Probably not. As long as you buy a decent unit from a respected manufacturer, you can count on your rangefinder being more accurate than your own game.
Range
One of the interesting things about golf rangefinders is the constantly increasing range that is included with various models. While it might be cool to have a rangefinder that can measure distances up to 1,000 yards, what is the point? Unless you are going to be using your rangefinder for another purpose as well – such as hunting – there is simply no need for such excessive range. For the typical golfer, a rangefinder which can measure out to 350 or 400 yards will be more than enough to get the job done.
Magnification
Magnification is an important point to check on as you shop, although most models available today include sufficient magnification. The benefit of having ample magnification in your rangefinder is making it easier to spot your targets in the distance. For instance, if you are trying to pick out the pin from over 200 yards away, having 5x magnification will make the task far easier than if you only had 2x or 3x. Fortunately, 5x is relatively standard at this point, and some models include even greater magnification power.
Ease of Use
Early rangefinder models could be a little challenging to use, which gave these devices a bad reputation as compared to their GPS counterparts. GPS devices are extremely easy to use, which is why many golfers opted for that style of distance measuring. However, times have changed, and rangefinders are now nearly as easy to use as GPS units. You don't have to hold as still as you used to when using a new rangefinder, and many have 'pinseeker' technology to help you lock onto the target. Again on this point, it comes down to buying a quality unit. If you spend the money on a good rangefinder with modern features, you can count on it being easy to use.
Price
Like most golf gear your budget will narrow down the field of rangefinders to select from. In general, it will cost $150 to $400 to buy a decent rangefinder. The more you pay, the better the feature set you will get hopefully from a more trusted manufacturer. You will start seeing quality devices that offer pin seeking and slope around the $250 price point.
Battery life
Battery life is not something that should be high on your priority list when shopping for a rangefinder. While you do want the batteries to last a while, of course, performance in this category tends to be solid regardless of which model you select. Rangefinders are actually turned on and in use for a relatively short period of time during a round of golf, meaning the battery is not drained rapidly. It would not be at all surprising to get more than one season of performance out of your battery before it needs to be replaced.
Durability
The durability of the rangefinder you select is likely to be tied closely to the amount of money invested in the purchase. If you spend enough money to purchase a quality product near the top of the market, you will be rewarded with a durable unit. Of course, no rangefinder is going to take kindly to being run over by the cart and then assaulted with a five iron, so treat your device with care and it will be good to you as the rounds go by.
Case/Carrying
You should check to make sure that any rangefinder you purchase comes with a case. Most do, but double check just to be sure, as this is an important piece of the puzzle. Without a case, it would be difficult to keep your rangefinder in good condition over the long run. Assuming you do receive a case, use it consistently even during the middle of a round. Always put the device back in the case between shots, and clip it securely onto your bag if you are walking the course.
Pin Seeking Technology
One of the potential challenges with using a rangefinder is making sure you measure the distance to the correct object each time. Are you sure you are getting the distance to the pin, or are you accidentally measuring that tree behind the green? To take away this concern, many rangefinders are equipped with a system which will scan the field and pick out the pin automatically. Needless to say, this is a great feature. If you are a little shaky when holding a rangefinder, or if you just want the added assurance of knowing you have the right number, pick a model with some type of pin seeking technology.
Slope
In addition to finding the absolute distance to the pin, rangefinders with slope will estimate the yardage you should play a shot by taking into account the change in elevation. If you are playing a courses with elevation changes you might as well spring for one that calculates slope. Be aware that rangefinders that calculate slope are typically not legal in tournament play.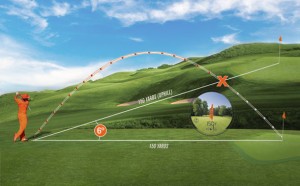 Ease of use
Often golfers find that ease of use is very important out on the course. Golf is frustrating enough before adding confusing technology to the mix. Out on the course, you do not want to be having to remember too many buttons to push just to get the range to the pin, so something that is easy to use and operates in a "point and click" manner is often the way to go.
Tip: Consider the time of day you will be using your rangefinder. You will want a rangefinder that works well in low light conditions if you like your round of golf early in the morning or towards the end of the afternoon.
Size and weight
Some of the rangefinders on the market today are extremely compact and lightweight – they fit easily in the palm of your hand, and slide neatly into a small case. However, there are also models which are quite large and rather heavy as well. Which should you choose? Most likely, you will want to make this decision based on your mode of transportation around the course. If you usually walk the course with your bag on your back, opting for a lighter model is a logical pick. Clip the case onto your bag in a convenient location, and don't worry about adding a significant amount of weight to your load. On the other hand, if you always ride in a power cart, you aren't going to care much about heft. In that case, feel free to pick out whichever rangefinder meets your needs, regardless of size.
Rangefinder Reviews
If you are unsure of the best golf rangefinder to purchase reading more reviews should hep you narrow down your choices. Sometimes it is easy to get caught up in the marketing from manufacturers while not getting a real idea of the performance of the device.
Many of the insights on this page came from sifting through thousands of reviews. Here are some good resources for reviews on golf rangefinders:
MyGolfSpy.com
Amazon.com
criticalgolf.com
twogolfguys.com
GolfWRX.com
Golf Apps vs Laser Rangefinders
In addition to GPS Golf Watches or Handheld GPS Devices, GPS Golf Apps are a popular way to get yardages out on the course. GPS Golf Apps have all the same downsides listed above for GPS Watches in addition to a few more relating to cell coverage on the course and the need to have your phone out during your round.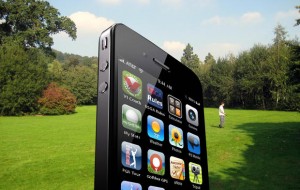 I prefer to unplug from emails, phone calls and text messages while on the course. If you are on your phone the whole round you are bound to get distracted by push notifications from your inbox, SMS, or your favorite non-golf apps.
There are tons of Golf Apps that offer a lot more than just course maps and yardage. Some apps offer discount tee times, handicap tracking or even pair you with other golfers.
Two popular GPS Golf Apps are:
Golfshot
GolfLogix
SwingxSwing
Many of these GPS Golf Apps are compatible with  Apple Watches and Android Wearables. Assuming you already have a smart watch, your phone has decent coverage on the course and you don't mind being distracted by push notifications from Facebook making sure you don't miss that your aunt just posted a picture of her salad, a GPS Golf App is an inexpensive solution to getting a rough sense of yardage out on the course.
Downsides of GPS Golf Apps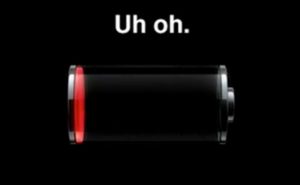 GPS Golf Apps suck a ton of power. App developers have been integrating power saving features in their GPS Golf App, but if you aren't careful your phone will die before the end of your round and you will be left in the dark on yardage. Also, most cell phones are not water resistant. You will need to get a protective case for any wet days out on the course.
GPS Golf Apps are not able to calculate slope. If you want slope, you will need to get a laser rangefinder.
Choosing the Best Rangefinder for You
All of these models have their pros and cons and often it is up to personal preference or budget as to which one will be the best golf rangefinder for your game.
Having said that, adding a rangefinder to your golfing equipment will no doubt have your buddies asking for the yardage constantly.  If the cost of a rangefinder is preventing you from making the purchase. Ask for a dollar each time a buddy wants the yardage, and you will make your money back in just a couple rounds.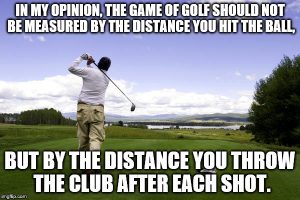 Hopefully this list of the best golf rangefinders will help you add a laser rangefinder to your bag… and hopefully shave a few strokes off your game with the added accuracy.
Major Brands That Make Rangefinders
Considering how popular golf rangefinders have become, it is no surprise that there are a number of different brands offering their own version of this popular golf device. When you set out to buy your own rangefinder, you are quickly going to discover that you will have to sort through a number of brands to eventually settle on a winner. To help you do just that, we have included a bit of information below about each of the major players in the rangefinder game.
Nikon

Here we find a brand name that is well-recognized around the world – and not for just rangefinders. Nikon is a Japanese company that was founded nearly 100 years ago, meaning they have built up a ton of customer trust and loyalty in that time. If you like making purchases with respected brand leaders, a Nikon rangefinder may be the way to go. The Nikon COOLSHOT line of rangefinders is quite popular in the golf world, and these devices are respected for their impressive accuracy.
Bushnell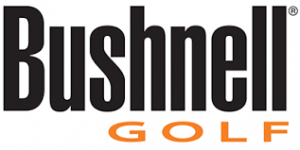 Bushnell could very easily be considered the leader in the golf rangefinder business. This popular brand was one of the first into the market when rangefinders began to sweep the golf world, and they are respected for their quality and reliability. These products are seen in the hands of many Tour pros and caddies while they prepare for events, which should tell you everything you need to know. Some of their most popular models include the Tour V4, the Tour X, the Pro X7, and the Tour V3. Depending on the features you are looking for and the budget you have in mind, there is a good chance that one of these models will fit your requirements nicely.
Breaking 80

A brand without the name recognition of Bushnell, Breaking 80 has been working hard to carve out their niche in the rangefinder business. Even without the well-known name, this is a brand worth your attention. Breaking 80 Rangefinders have nearly all of the same features as some of the top brands, including the ability to adjust for slope (in some models), a system that actively looks for the pin rather than background objects, and the ability so scan for up to eight seconds in order to measure many different points. In all, these rangefinders come with everything you need to play great golf, and often at a lower price point than some of the other brand names.
TecTecTec
Tectectec is a French company which offers two laser rangefinders for your consideration – the VPRO500, and the VPRO500 Slope. Again with this brand, we see a rangefinder that can do everything you need in terms of distance measurement on the course. With 6X magnification when looking through the viewfinder and a 'Pinseeker' mode to track down your yardage accurately, you should be able to get your number and be on your way in no time at all. Also, the unit is built with rainproof technology to enable it to work well even on those damp days.
Callaway

Callaway is a brand that is known to golfers around the world, as it has been producing quality gear for decades – including clubs, balls, shoes, gloves, and much more. Naturally, Callaway also has a significant presence in the rangefinder market, where their distance measuring devices have become quite popular. While Callaway offers traditional rangefinders with all of the necessary features, they also offer GPS units and even a hybrid GPS-Laser Rangefinder model which gives you the best of both technologies. As a brand, Callaway provides buyers with one of the most-diverse product lines available, meaning you will have plenty of models to pick from when you stick with this respected name.
Izzo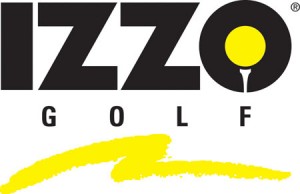 While Izzo is a popular golf brand which offers products in a variety of categories, they do not actually offer a laser rangefinder in their lineup. They do, however, offer a number of GPS distance-measuring devices, including the SWAMI 4000+. Also, one of their newest products, the SWAMI GT, has the ability to both provide distances as well as tracking your play in terms of how far you hit each club, etc. The SWAMI GT is one of the more exciting new products on the market, and it is worth a look if you are interested in learning as much as possible about your own game.
GolfBuddy

If you are looking for selection above all else, look no farther than GolfBuddy. This brand offers up an incredible number of distance measuring devices, meaning you can be picky in choosing the exact model which will suit your needs. Included in their product line are GPS watches, talking GPS devices which tell you the distance to your target audibly, laser rangefinders, handheld GPS models, and more. The GolfBuddy lineup runs the gamut from affordable to high-end, so they should have a product to suit just about any budget.
VoiceCaddie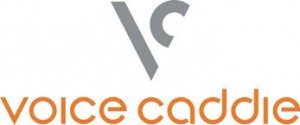 In terms of ease of use, it doesn't get much more convenient than the VoiceCaddie. Their flagship product is a simple device that can be attached to your hat prior to starting a round. Once it is turned on and ready to go, you simply tap the unit and it reads you the distance that you have remaining to the target. It's just that easy. In addition to this creative distance measuring solution, the VoiceCaddie brand also offers some more traditional distance measuring options, such as a GPS watch and a laser rangefinder.
Golfers looking to pick up a handy piece of technology to aid in distance measuring on the course are going to be lacking for options. The brands listed above are some of the most popular in the game, although there are even more out there to explore. In the end, the goal of your shopping experience should be simple – to settle on a product from a quality brand name that offers all of the features you need for a price you can afford.
History and Legality of Rangefinders
The Rules of Golf are often slow to permit the use of new technologies, such as rangefinders. While laser rangefinders have been used for many years in a variety of applications – such as hunting, – they are a relatively new to the world of golf.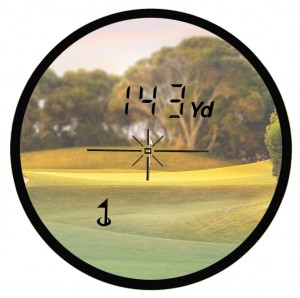 Traditionally, there were a couple of ways to obtain a yardage on the golf course. The first was through markings on the course such as on the cart path, sprinkler heads, and more. For years, it was a common to see players 'walking off' the distance between one of these markers and their ball in order to get a yardage. While this system worked fairly well, it is time consuming and something of a hassle. Also, depending on the ability of a given golfer to pace off their yardage, the final number that is determined may or may not be entirely accurate.
When the rangefinder arrived on the scene, all of that changed. Rather than pacing around the course, players were now able to obtain an extremely accurate (in most cases) yardage within just a fraction of a second. In addition to making the game more convenient, and in many cases more fun, this revelation also has the potential to positively impact pace of play. Anyone who has used a laser rangefinder can attest to the way these simple devices greatly improve the experience of playing golf.
However, there is a small point that most golfers do not understand – rangefinders are still illegal under the rules of golf. Despite the fact that they are commonly seen on golf courses all across the country, rangefinders are disallowed under Rule 14-3 which restricts the use of 'any artificial device or unusual equipment for the purpose of gauging distance or conditions which might affect play'.
Why are rangefinders still around if they're banned?
So how are so many people using rangefinders when they are explicitly ruled out in the Rules of Golf? In 2006, the USGA allowed for the use of a Local Rule which can permit the use of distance measuring devices, as long as they only measure distance (not slope, wind, etc.).
When the Local Rule is in effect, players can freely use their distance-only rangefinders without penalty. Models that include slope or other features are always illegal under the rules, no matter what kind of Local Rule is put in play.
If you are playing a casual round with your friends, feel free to use your rangefinder to obtain all of the distances you need. However, if you are playing in a tournament, you will need to check to ensure that the Local Rule regarding rangefinders has been put into use. Most tournaments do allow them to be used, but it is smart to double check anyway before you head to the first tee.
On the PGA Tour, the Local Rule has not been adopted, so players at that level are not able to use rangefinders during competition. They do, however, use them in practice rounds to record important yardages for use later.
Off-Brand Range Finders
When shopping for any product – such as if you're on the lookout for the best mallet putter or anything else – there is always the temptation to buy an off-brand in order to save some money. Nearly every name brand product in existence faces competition from an off-brand imitator who offers to provide the same basic functions for a lower cost. When it comes to rangefinders, is it a good idea to go this direction in order to save a few bucks? Well, that all depends on your needs, your budget, and more.
First, the basic function of a golf rangefinder is extremely simple – to measure the distance, in yards, between two locations. So, as you stand in the fairway next to your ball, the rangefinder is tasked with measuring the distance between your ball and the flag (or any other object that you are going to use for a target). With that in mind, it might seem like any old rangefinder could do the job. After all, if it can measure distance, that's the end of the story – right? Not necessarily.
Considerations when finding the best golf rangefinders
You might be able to locate an off-brand rangefinder which can measure distance accurately, but there are other capabilities that need to be considered. First, how durable is the product? You aren't going to intentionally 'beat up' your rangefinder, but it is likely to get knocked around a bit during the course of a round (especially if you walk the course). You don't want to purchase a rangefinder only to have it break down after a couple of rounds, so durability is a real concern with lesser brands.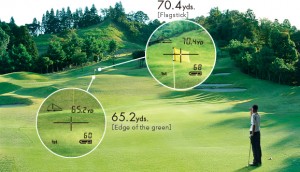 Also, you want to think about the lifespan of the battery included with the rangefinder at purchase. If you are going to have to buy a new battery in short order, you might end up spending just as much money as you would have spent buying a model from a respected brand leader. To determine how long the battery may last in a given model, you can use the reviews found online from previous buyers to gain some insight. If battery life – or any other specific point – seems to be a problem, you might want to think twice about your purchase.
The last thing to think about in this debate is the matter of just how much money you stand to save. Is the savings really going to be worth dealing with a lower quality product? For example, if you are considering two options – a brand name model at $200 and an off-brand option at $150 – is saving $50 enough to make it worth downgrading to a lesser product? Only you can make that choice for yourself, but the answer is often going to be 'no' for many golfers. If you are going to bother investing in a rangefinder to improve your experience on the course, it usually will make sense to buy a product from a trusted and respected brand.
Why Should You Use a Rangefinder?
Simply put, a rangefinder is the easiest way to access accurate distances on the golf course. You have the measuring power in the palm of your hand – all you have to do is aim the device, press the button, and take note of the yardage. Once you are comfortable with using your rangefinder, you should be able to obtain a distance to the pin or another object in just a matter of seconds. These devices can help pace of play by eliminating the need to look around for markers in the fairway, and they can help you play better golf by providing you with reliable, accurate numbers.
Golf is meant to be fun, and for most people, owning a rangefinder will make the game more fun. Do you enjoy the process of walking all around the fairway to find a sprinkler head you can use as a distance reference? No – probably not. With a rangefinder, you can pick out your yardage in just moments, and you can get back to the task of actually playing golf. Some players have been resistant to pick up a rangefinder simply because it is relatively new to the game, but change is no reason to stay away. Every advancement is a bit odd at first, until it becomes universally accepted and used. Golf rangefinders make the game better, and you should strongly consider adding one to your collection of golf equipment.
Why Shouldn't You Use a Rangefinder?
So, if all the points in the section above are true, are there any good arguments against using a rangefinder? It is tough to find much bad to say about these devices, but we will give it a try, just for argument's sake.
First, we can talk about the cost. Golf is already an expensive game, so you may not feel like spending hundreds of more dollars on a piece of equipment you technically don't need in order to play golf. You could use that money on a new driver, or even on greens fees for several rounds. Any place you can save money in your golf game should be seen as a positive, so skipping a rangefinder for the time being might do your bank account some good.
Another argument in favor of passing on a rangefinder is the appeal of keeping technology safely away from your golf game. One of the things many people like about playing golf is the opportunity to get outside and spend some time with nature while not worrying about text messages, emails, and the like. Of course, you won't get those messages on your rangefinder, but it is still a technological device – and you might feel like a break from anything with a battery. To keep your experience on the golf course as 'pure' as possible, you could decide to obtain your yardages the old fashioned way.
One last point which can be used to argue against rangefinders is some of the limitations they have compared to GPS units. If you do want a measuring device in your bag, some golfers will be happier with what is provided by a modern GPS device. Such devices will provide distances to the front, middle, and back of the green, which is something a rangefinder can't do. Also, many GPS units have maps with distances to a variety of hazards and other notable spots, which is again a function not offered by a rangefinder.
In the end, we think laser rangefinders are tremendous pieces of equipment. However, they aren't perfect, and one or two of the reasons above may give you pause before making a purchase.
Doesn't the Course Give You Distances Already?
Well, yes, it does. However, those distances have some limitations. First, they are only provided at certain increments – often at 100/150/200. So, if you are around 125 yards from the green, you are going to have to walk 25 yards in either direction to confirm your yardage. Also, those numbers are only measured to the middle of the green, as they cannot take into account the location of the flag on that particular day. With a rangefinder, you take a measurement and you instantly know exactly how far you need to hit the ball to reach the target. While some measurements will be provided on the course, a rangefinder is the far superior way to get accurate numbers throughout your round.
Getting the Most Out of Your Rangefinder
Generally speaking, rangefinders are quite easy to use. Once you have a little bit of time to get comfortable with the device, you should be able to pick out distances quickly and easily. With that said, there are a few tips we can offer to help you get the most out of owning one of these units. Check out the advice below to make sure you are using your rangefinder to its full potential.
Measure more than the flag. Sure, you are going to use your rangefinder to obtain yardages to the flag, but you can do much more than that with your laser. Also use your device to measure distances to things like trees, bunker lips, the edge of a water hazard, and more. For instance, if you are playing a dogleg par four and need to know how far to hit your drive, measure a tree on the other side of the dogleg and subtract 10 or 15 yards to come up with a logical number.

Trust the number. Your rangefinder is going to be far more accurate than your eye. Some players make the mistake of not trusting their rangefinder, instead deciding the that the target 'looks' like it's farther away or closer on a given shot. Don't make this mistake. Trust the technology over your own estimate and hit your shots accordingly.

Use it for a layup. When playing a long par five, you might not think to pull your rangefinder out for a measurement on your second shot. However, even if you are going to lay up, it is still worth your time to determine how far you are from the target. The measurement you take can be helpful in deciding how far to hit your second shot in order to set up an easy third. For instance, if you find that you are 320 yards from the flag, and you want to have 100 yards for your approach, you will know that 220 yards is the ideal distance for your second shot.
Check out similar buying guides –
Best Golf Push Carts
Best Golf Training Aids
Best Golf Swing Analyzers
Best Golf Balls for Distance