Golf is one of the fastest-growing outdoor sports in the world. If you love the game of golf but do not know where to book your next golfing getaway, the United States boasts over 50 percent of the world's top golf courses. These lush green fairways are beautifully constructed to attract everyone from novice players to retired professional golfers.
To narrow down your choices, here are ten of the most elite golf resorts in the U.S. that cater to golfers willing to spend the money on an expensive golf course.
Designed by Ree Jones, Cascata is a magnificent oasis featuring a 418-foot waterfall that streams from the overlooking mountains into a river that runs through the clubhouse. Located in the picturesque foothills of the River Mountain Range in Boulder City, Nevada, this tranquil setting frames 800-acres of natural rock formations and fabricated garden and water features.
Cascata offers golfers a memorable experience with its 400-acre course, 37,000-sq. ft. Tuscan themed clubhouse, and PGA tour-class caddies who accompany players on the golf course. Clubhouse amenities include a gourmet restaurant with a full bar, men and ladies' lounges, and a fully stocked golf shop. Standard pace of play is four to five hours.
Rates: Green fees are $395. Golf club rentals are $100 per set.
Caddies fees: Caddies are required, and the $50 fee is additional to green fees.
Located in Northern California's wine country, avid golfers and wine aficionados will appreciate Rosewood CordeValle's 260-acre, 18-hole championship golf course designed by award-winning golf architect Robert Trent Jones Jr. Nestled among winding creeks, perennial sycamores, narrow valleys, and wide meadows, this PGA Tour-quality course promises to excite and challenge with each round of play.
Amateur and experienced golfers will be impressed by the level of professional services. The Jon Horner golf school is staffed with certified instructors to help improve anyone's game, and the advanced practice grounds contain an area for chipping, pitching, and putting. Each golfing guest is assigned a caddie and golf butler to enhance the guest's experience.
Rates: Packages start at $565 for one round of golf and one night of accommodation, but there are a variety of golf packages to meet guests' individual needs.
Caddie fees: Not listed. The suggested gratuity is $50 per bag.
Host site to the 2018 Senior LGPA, the French Lick Resort in Indiana offers golf enthusiasts three PGA-tour style courses to choose from. The Pete Dye Course is known for its narrow fairways and rough terrain. This course includes a majestic view of the southern Indiana countryside, man-made lakes, and sand-filled "volcano" bunkers.
The Donald Ross Course is a par-70 course constructed by Donald Ross in 1917. The course underwent a massive renovation to restore its bunkers with flat bottoms and rectangular designed rolling greens. The Valley Links Course is a nine-hole that was designed for families. The course features Scottish-style fescue grasses and tee markers for experts, beginners, and children.
Rates: Golf resort packages start at $284. Public golf rates for daily unlimited play start at $350. Regular season rates for one round of play is $125 before 3 p.m. and $75 after 3 p.m.
Caddie fees: Forecaddie fees for the Pete Dye Course start at $30. Forecaddies and fees for the Donald Ross Course must be requested in advance.
Ranked as the best golf resort in South Carolina and host to the 2021 PGA Championship, the Kiawah Island Golf Resort offers golfers five championship courses to test their skills. Totaling 90 holes of championship golf, the courses designed by Pete and Alice Dye, Jack Nicklaus, Tom Fazio, Gary Player, and Clyde Johnston highlight panoramic views and stimulating greens. The Ocean Course is a walking-only course until noon and has more seaside holes than any other golf course in the world. The Osprey Point course is notably the most popular course with resort guests. Each course is an 18-hole, par-72 course that offers an unforgettable experience.
Rates: Prices vary for each golf package and can be customized for each guest. The Villa Golf Package starts at $223, and public tee times start at $232 per player.
Caddie fees: There are no fees for caddie services, but gratuities are recommended at $100 per golfer for a walking caddy and $50 per player for a forecaddie.
Pebble Beach Golf Links is a public golf course located in Pebble Beach, California. A popular attraction among professional golfers and host of five U.S. Open Championships, this course is rated the No. 1 public golf course in the U.S. This impressive course consists of sloping greens and cliff-side fairways. The California coastline is in full view as golfers tee off on wide-open vistas.
Rates: Currently, golf fees are $525 for resort guests. Non-resort guests pay $525 and a cart fee. From December through March, golf fees are $495 for resort guests. Non-resort guests pay $495 plus a cart fee.
Caddie fees: A walking caddie is $80 plus $50 suggested gratuity
Since its inception in 1898, Pinehurst has hosted more golf championships than any other golf club in the country. Designer Donald Ross considered Pinehurst his favorite course and "masterpiece." The current course has been renovated to include tree-lined fairways, naturally positioned bunkers, and an array of wire grasses. Pinehurst No. 2 is one of nine Pinehurst courses.
Rates: Golf packages vary according to accommodation requirements and can cost an upwards of $1884 for a single occupancy. Guests are charged a $195 premium to play Pinehurst No. 2. An upgrade to unlimited play is $175.
Caddie fees: A single caddie is $90, and a double bag caddie is $65 per person. A forecaddie is $30 per person. Gratuity for a walking caddie is $30 and up per bag, and a forecaddie is $20 per bag and up.
The Shadow Creek Golf Course is located in North Las Vegas, Nevada. This 18-hole golf course was designed by Tom Fazio and features a layout of over 200 types of imported trees, man-made waterfalls, hazards, exotic birds, and rock bed streams. This expensive golf course is set on 350-acres with an additional 7-acre short game facility that has four synthetic target greens and a putting green. Golfing guests of MGM Resorts International are shuttled by private limousine to their tee times and greeted by their personal caddies.
Rates: The fee to play at Shadow Creek is $500 per golfer Monday through Thursday. The course is only open to invited guests Friday through Sunday.
Caddie fees: A walking caddie is $100-150 per bag. The price for a forecaddie is $40-50 per bag.
Built in 1981 and designed by Pete and Alice Dye, this course is open to the public. Tucked away in Ponte Vedra Beach, Florida, TPC is an 18-hole, par 72 course on 7,215 yards of Bermuda grass. The course is famous because it is home to the PGA Tour headquarters and hosts The Players Championship every year. TPC is noted for its "stadium seats" made of mounds of grass. The signature hole is the "Island Green," which consists of 78 feet of green fairway surrounded by trees. The putting green is completely surrounded by water.
Rates: Green fees range from $399 to $549 for one round of golf, depending on the season.
Caddie fees: A walking caddie is $50 per player, including tip. A forecaddie is a $200 flat fee plus tip.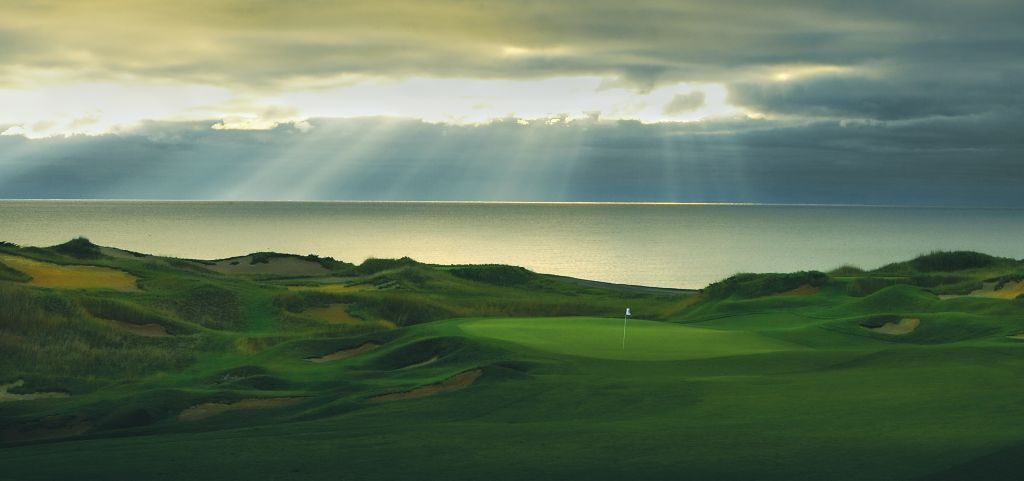 Built along the Michigan shoreline, The Straits is a 36-hole walking only course that is one of two golf courses owned by The American Club luxury golf resort in Kohler, Wisconsin. Called the "flagship" course, The Strait was constructed with three stone bridges, deep bunkers, grassy dunes, and grazing sheep. The difficulty of the course is heightened by the high winds off Lake Michigan. The Straits has hosted four major golf championships and is set to host the 2020 Ryder Cup.
Rates: Green fees vary but typically cost $385 per round.
Caddie fees: A mandatory $65 fee is required with a $50 per bag suggested gratuity. A nine-hole caddie fee is $35 per player. The forecaddie fee is $35 per player and $30 per bag suggested gratuity.
The Wynn Golf course is located in Las Vegas, Nevada right off the Las Vegas strip. Designed by Tom Fazio, the Wynn course is an 18-hole, par-70 course built on Bermuda grass. The course offers Fazio's signature rolling greens, white-sand bunkers, and winding streams. Wynn is a public golf course that has a course rating of 73.9 and a slope rating of 124.
Rates: Green fees during the off-season are $300, but in-season rates are $500 for one round.
Caddie fees: A walking caddie is $100-150 per bag. The forecaddie fee is included with booking, but the suggested gratuity is $50 per bag.