The biggest fear for any travelling golfer is damaging their precious set of clubs in transit. For this reason, a standard bag simply will not do.  Golf clubs will endure a beating on its journey through airport security and other conveyor belt systems.  There are many cases that have been seen, even with touring professionals, having clubs broken or mishandled. Many people travelling on vacation want to hit links while they're away and will need a golf travel bag.  A small investment, which may not be used more than 10-15 times a year can save hundreds of dollars in club repair or buying new clubs entirely.
Instead of renting golf clubs that are unfamiliar to you at the final travel destination, bring your trusted clubs with!  Adjusting to clubs within hours of a round will not produce great rounds and more stress on the trip.  Most golfers want to enjoy themselves while travelling and it would be hard to do when miss-hitting shots left and right because of a club problem.
The next question is what are the best travel bags available on the market? And what should you be looking for in a travel bag?
There are four major considerations you need to keep in mind when purchasing a golf travel bag:
Size and Weight
Durability and Protection
Maneuverability
Size and Weight
You want a travel bag that's big enough to store clubs (obviously), shoes, a few coats and the other small things that you include with your golf bag.  Although you want something covering all of your things, you don't want a travel case that's too big because it increases the risk of damaging your clubs while allowing them to move around.  Weight is also included in this category because it factors in when flying.  Many people are restricted to 50 Lbs. (about 23 kgs) when flying and cases range in weight.  The more weight the case is itself, the less you'll be able to pack for the trip.
Durability
The whole purpose of a travel bag is getting your clubs to their destination in one piece, so it's very important you get a bag that is durable enough to withstand the rigors of travelling.  There are two main options, soft and hard cases.  Soft cases are typically a tough material of fabric and the hard shell cases are a strong plastic.
Maneuverability
When getting around on foot in the airport, or unpacking it from the luggage carousel, it's important the bag is easy to handle and move.  Bags can be a pain when lugging them and different designs allow a player to choose the best option.  Most bags include wheels and differently placed handles to put less stress on a golfer's back when carrying all of the necessities.
Best Hard Case Travel Bags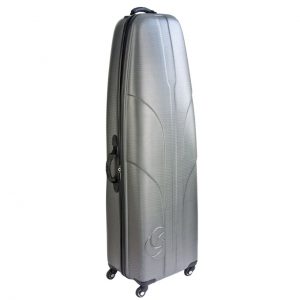 The Samsonite Hardside Golf Travel Case features a lightweight-plastic, ABS protective shell that will keep your clubs free from damage when you're in the air.  The sleek design on the exterior houses a foam on the interior that protects the valuable assets.  The 54-inch frame stores any club size with ease and weighs in at 14 pounds so available room is not an issue.
There are four wheels to help with a heavier bag and has studs to help keep the bag upright and stationary.  Having the ability to keep the bag upright allows golfers to save their back while pushing or pulling the bag instead of lifting it up repeatedly.  Padded handles located on the top and side of the case allows for easy handling and lifting if needed.  Inside the case are two straps for a snug fit around the golf bag, allowing no movement once in motion.
$170
Can handle large 10.5 inch head golf bags and 48 inch clubs
4 multidirectional spinner wheels
54″ long, 12″ high, 16″ wide
14 lbs.
Something to keep in mind about this bag is the size. The good news is it will likely accommodate all of your clubs. The downside is since the bag is so large, you will need to make sure the bag fits inside your car. Remember often bags are used while traveling, and you will have a rental car.
An asset of this bag is the strap inside. A major problem transporting golf clubs is how rough the trip can be on the clubs themselves. TSA agents often toss and throw clubs without any concern. The case itself here is strong, but the strap inside secures the bag within the case so as to limit the bouncing around of any clubs.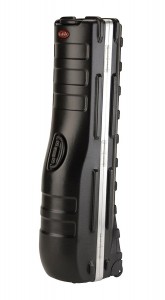 SKB's ATA Travel Case is made with some of the most superior material.  It is mostly composed of polyethylene, the same material that is used in U.S. Military carrying cases and containers. The high-end plastic is waterproof and is resistant to a lot of wear and tear.  The company is so confident with their product that there is a million-mile guarantee (which is essentially a life-time guarantee).  Although it is heavy duty, it is relatively light, weighing in at a little over 17 pounds.
Three clasps ensure that the clubs on the inside have no chance of escaping.  A handle is built into the front of the case as well as on the top.  The top handle allows for easier transportation with the bottom two wheels rolling smoothly.  The case stands up straight on its own if you get tired and need a rest from lugging around the heavy weight.
$163.22
49 inches by 16 inches (interior storage space)
Able to handle 48 inch drivers
Includes SKB lifetime guarantee
17.6 lbs.
Unable to be shipped internationally (per Amazon)
A major perk of this bag is it's TSA approved. This bag is definitely large and heavy, but even with a full set of clubs, umbrella, golf shoes, and plenty of golf balls, it will still likely be within any pre set limit on checking bags before flying (usually 50 lbs.) This is crucial as it may save you a substantial fee.
The material is hard and extremely durable. Be sure to measure the case compared to the back of the car you will be transporting it in since the bag is NOT flexible. That being said, whether you have a high value set or simply want to ensure your clubs withstand TSA scrutiny and get to your destination safely, this bag is a good bet for you.
Best Soft Case Travel Bags
The Club Glove Last Bag is a leading name in golf travel bags. Several tour professionals and many university golf teams use them.  They are popular among universities because of the wide selection of colors to choose from and because they provide great coverage to valuable pieces of equipment. Lightweight yet heavy-duty, the travel bag fits a standard golf bag (up to 49 inches) with added room for shoes, clothing, balls and the other items you need to enjoy your golfing holiday.
The Club Glove Last Bag is made with a Cordura material that can withstand more than enough trips around the world.  The clubs are surrounded by the ultra-strong material on the exterior and has extra padding at the top of the bag on the interior for clubface protection.  Two side pockets create an extra storage opportunity which is often used for golf spikes or a pack of balls.
Ability to select your own color
Water-resistant nylon
2 exterior shoe compartments
10.6 lbs.
Able to handle 47-inch driver plus gear and shoes
This bag is lightweight and easy to move around airports. Another major perk is being able to select your color from a wide range of options. When you arrive at a baggage claim, there is nothing more annoying than lifting five other black golf bags only to miss yours going by. A bright and unique color will save you time at the airport.
Something else nice about the bag is the added space. Many bags that are not huge and hard cover lack extra room because people buy them to get the leanest model available. However this bag finds a good balance with being lean and easy to maneuver, but still includes extra space for gear and pockets specifically for shoes. Additionally, the water-resistant nylon is durable yet lightweight.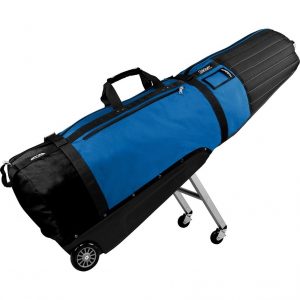 The feature that makes the Sun Mountain ClubGlider Meridian stand apart (literally) from other travel cases is the leg set that is able to extended from the case body to support the entire weight of the set of clubs.  Instead of straining your arm or back, the stand provides relief during long stretches of wheeling with a bag that can weight over 40 Lbs.  The extendable arm has wheels that rotate in 360-degrees for easy maneuverability through airports, hotels and car parks.
With two pockets built in, along with internal cinch straps, this travel bag is built with the mentality to be the best.  Weighing in a little over 11 pounds, it is very light considering it has extendable arms for wheeling around.  Extra padding at the top of the bag ensures clubheads will be protected from unexpected falls or throws.
$289
11 lbs.
Leg mechanism to ease the weight of pulling a golf bag
Internal straps to secure golf bag within travel bag
52 inches long (enough to handle almost any sized driver)
Made of 200 Denier polyester
Two-way zippers that run full length of the bag to ease the burden of closing full bags
This bag is a luxury model. The retractable wheels make it much easier to pull around wherever you may be. another huge asset is ow lightweight the bag is. When you combine the extra wheels with the lightweight (but still long enough for drivers), you get a model that is mobile and stress free to maneuver.
The fact that this bag is not a hard case means when you arrive you will not need to make sure your car can accommodate a large case. Instead you will be able to fold up this bag and store it in a small corner of your car.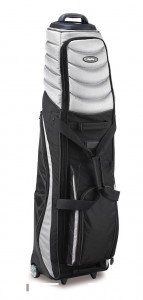 The Bag Boy T-2000 is a very lightweight and durable cover.  It weighs in at 11 pounds and has an ABS base to prevent moving when stationary while preventing marks when in motion.  The top has a revolutionary handle which uses new technology to put less strain on the arm and wrist.  The bag will stay in the position it should be in, with the wheels maintaining contact on the ground, while the top rotates to comply with your body movements.  A lot of bags will shift weight and lose balance when moving too quickly to have only one wheel with ground contact, but this handle allows for all of that while maintaining balanced contact with the ground.
Larger wheels at the bottom of the cover provides a smooth roll across most surfaces.  The bag is 53 inches long and holds any club people may have.  The clubs are locked in during transportation with an internal strap to prevent unwarranted movement.
$149.12
53 inches long
Made of nylon
Skid resistant base
In-line wheels to make rolling easy
11 lbs.
The in-line wheels are a major asset. One difficult thing about travel bags is they often turn around and lose balance as you pull them behind you. They also often get tossed around while traveling. Because of this, you will want simple. The less things that protrude form the bag the better. Wheels that are almost entirely covered by the bag are optimal.
Another perk of this bag is the skid resistant base. One thing you will find is as a bag is dragged behind a traveler, over time wear will first show on the base (as it skids behind). This can lead to small holes on the bottom of a bag when the rest of the bag is fine. This extra fabric will help to combat this.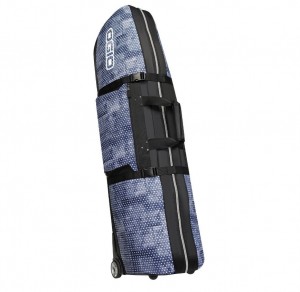 Ogio Straight Jacket will draw people in with their unique style and designs.  It is an extremely light-weighted cover weighing in at 7.5 Lbs. giving more weight allowance to the golfer when flying.  Larger wheels at the bottom of the cover provides a smooth rolling action across most surfaces.  The bag is 52 inches long and fits both tour bags and regular stand bags.  If that isn't enough space for you, they include two outer pockets for additional storage.  A fully padded top section gives the peace of mind for clubs travelling long distances or in risk of being damaged by mishandling.
$115
52 inches long
Fully padded top
Two external pockets for extra storage
Able to fit tour bags as well as carry bags (with legs)
7 lbs.
The first great things about the bag is appearance. This is a unique looking bag. As stated earlier, you want a bag that sticks out because it will be easier to identify in a ling line of similar bags.
Another great thing about this model is the added padding. A downside to soft cover bags is they usually offer less protection than hard models. However, here the added padding means your clubs should remain perfectly safe. A plus is the bag only weighs 7lbs. which is amazing when you consider the amount of protection it offers.