As frustrating as golf can be, at the end of the day the sport is all about one thing: fun.  Choosing the right bag for your on-course needs can make your round a hell of a lot more fun.  Playing a poor round can feel like you're carrying the weight of the world on your shoulders, but not if you select the right bag! So with that in mind, what's in a bag? And what are the best golf bags out there?
There are four types of bags out on the market:
Carry Bags
Stand Bags
Cart Bags
Staff Bags
Carry Bags
Carry bags are lightweight bags designed for golfers who don't take all 14 clubs with them on the course, or for people who want a bag for the driving range. Also referred to as Sunday bags, carry bags do not feature a stand and are low on storage (generally only holding a handful of balls and tees).  Young players will often carry this as a starter bag and eventually graduate to a stand bag once they are older and stronger.
Stand Bags
Stand bags are designed for the golfer who likes to carry their clubs around the course.  They include more pockets and storage than a carry bag, and most important feature a pop-out stand.  The stand "pops-out" with the natural weight of the bag when it is set on the ground when a player is about to hit their next shot.  A lot of players who walk a lot of holes, like collegiate golfers or middle-aged amateur players, will prefer stand bags because they can be carried or put on a push-cart or regular cart.  They are not limited to only people who walk, but they are preferred so it is less of a burden walking around the course.
When you're looking at buying a stand bag, you should consider the following features: stand mechanism, dual-strap system, top-divider system, strap padding, weight, pockets and storage.
Cart Bags
Cart bags are for the golfers who ride in an electric cart or use a pull/push cart when they're out on the course. They include more pockets for storage including cooling pockets, safety pouches, pencil holder, quick-draw putter wells and other built in features that aren't available in stand and carry bags.
When you're in the market for a cart bag, you should consider the following features: handles for lifting, top divider system, access to pockets when on a cart, putter access, and storage.
Staff bags
These are bags for the professionals and those who have an electric cart and plan on leaving the bag strapped on the cart for the whole round. They're larger and heavier than the other bag types and have a lot more storage included in them.
During the purchasing process, there a couple of important factors that are in each bag that you must consider before taking the plunge.
Weight: This is very important, especially if you're opting for a carry or stand bag. If you're planning on playing 18, fatigue towards the end of a round is a genuine factor in an amateur's golf game. You don't want to add to that weight if it is unnecessary, so choose the lightest option you can that still contains all the features you need.
Top Divider: This is a personal preference on arranging your clubs in the bag.  Many players like to keep their clubs separated to find the club easier when they are about to hit a shot.  The top divider also helps keep the clubs in better shape when clubs are spaced out.
On-course Storage: If you're opting for a staff or cart bag in particular, you have to ensure that all the items you like to have out on course can fit in your bag. Is there a pocket for your rain gear? Umbrella compartment? Beverage cooler? Rangefinder pocket?
Best Carry Bags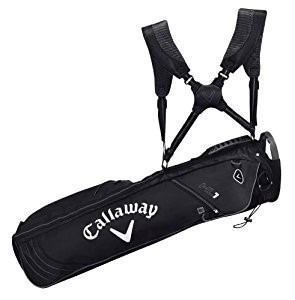 With the Callaway Hyper-Lite 1 Pencil carry bag, you can rest assured that you're buying a quality product from one of the biggest names in golf.  Callaway uses a lot of research and design in all of their products, including bags.
The top divider is broken up into three different slots and is capable of carrying a full set of clubs.  The durable product features water-resistant pockets for a peace of mind.  Pockets line each side giving a player an extra storage capability.  Lightweight material with extra padding under the strap adds to the comfort level, which means this bag can go the distance when you're out on the course playing a lot of holes.
$119.99

3 zippered pockets including a full-sized Apparel pocket

Manual release stand System

Single strap
This bag is extremely basic, but high quality. The extra padding is nice, and the lightweight will make for an easy carry. One problem with this bag is the one strap system. Many people like one strap, but if you fill your bag up, or are playing a course with many hills, you may not want only one strap because it can add stress to your back.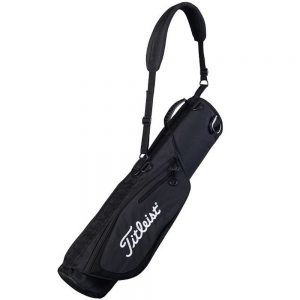 Titleist always has top-of-the-line products in whatever they make.  The Carry Bag is a very light alternative to other bags.  It is an old-school style with one strap but includes newer technology with the material it is made out of.  Golfers not wanting to take all 14 clubs out on the course or younger players with a lighter set would love this option.  It usually comes with a split top divider and three pockets to keep all of the personal possessions safely stored away.
$99.99
Water-resistant zipper
3 zippered pockets
36 inches tall
3.9lbs.
Not eligible for international shipping from Amazon
This is a beginner bag. It will be easy to carry and extremely lightweight, but expect the strap to wear over time. It is also quite small and may not be the best option for a full set.
Best Stand Bags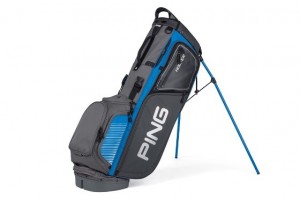 A wide and stable pop-out stand (24-inch leg span) allows this bag to be playable in any condition with a steady base to support it.  Ping Hoofer can hold 14 clubs and has six top dividers for club organization.  Weighing an ultra-light 5.5lbs, the bag has an impressive 12 built-in pockets allowing for a lot of storage.  Rain gear, certain training aids, balls, gloves, rangefinders and just about anything else will fit in the bag.
An umbrella sleeve lines the outside of the bag near the stand legs.  The Hoofer comes in many different color schemes including a white-black, blue-black, orange-grey, red-black-charcoal and a unique camouflage combination. With a comfortable double strap, the Ping Hoofer is a quality choice that will not leave you disappointed.
$185.95
8 external pockets
Backpack style straps
5.5 lbs.
36 inches high
Not eligible to be shipped internationally from Amazon
This bag is a step-up from lightweight carry bags. With a nice stand, the bag is study and has plenty of room for gear. Another nice perk is the extra pockets and 5 pocket interior, which makes it easy to organize and keep track of clubs.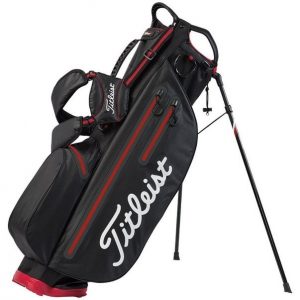 Titeist's StaDry Light's name is very fitting with the bag weighing in a feather-light 3.5 pounds.  Out on the course, the light weight means less energy spent carrying around a heavier bag.  The sharp design includes a double strap with back support to distribute the weight when carrying, a three slot top divider and a waterproof outer nylon material when playing in the elements.  The attention to detail in the bag sets it apart from other options.  The zippers include a seamless feature to have the ultimate waterproof bag.  A player who isn't afraid of playing in a few rain showers would appreciate the superior design.
$196.82
3.5lbs.
2 padded straps for easy carry
The nylon this bag is made of is perfect for its design. If you need a bag that is good for range use (strong stand), cart use (small but plenty of room inside), or carrying (padded straps), this versatile bag is perfect.
The bag is a little pricey, but will be durable in the rain and should hold up for quite a while.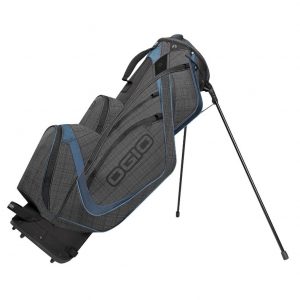 OGIO has created a modern design that can support a lot of weight or handle any condition with its stable stand.  A rain hood is included with the bag to keep out any moisture that drops from the sky. A convenient water bottle sleeve is placed on the carrying side so you're not twisting and turning to find your bottle while walking.  The bag offers 8 top dividers and a double strap system for carrying.
$129.99
10 club way top
Rain hood included
36 inches high
8lbs.
This bag is high quality. One downside is it weighs slightly more than other bags in a similar size/price range. The good news is it includes more space inside the bag for gear, and also includes a rain cover. The rain cover will be essential to keep your grips dry in a rain storm.
Best Cart Bags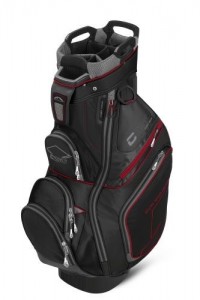 Sun Mountain may not be a big name in club, ball or glove production, but they are fairly well-known for making a dependable, good-looking golf bag and this is no exception.
With a smart-strap system that attaches the bag to a riding cart through two Velcro straps, this intelligently-designed bag features plenty of storage (10 pockets, 3 value-lined pockets) that is super accessible due to their outward facing angle. It is organized into 14 different dividers at the top of the bag with the putter space positioned at the front.  Definitely put this one on your short list.
One major perk of this bag is the dividers are full length. When you are carrying your bag over hills, there is nothing worse than having clubs fall out the top. The bag also has extra compartments for plenty of storage.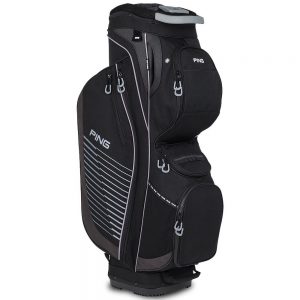 Ping's Traverse cart bag is filled with tons of pockets for holding various items.  It has seven zippered pockets and three pockets where you slide objects in.  For the top dividers, 14 different cushioned sections protect the clubs when driving around the course.  The bag only weights 6 lbs and is easy to take on and off a cart with handles near the top dividers and one at the base.
$173.95
14 cushioned sections
6 lbs.
10 extra pockets
A major upside of this bag is the versatility. If you carry or use a cart, you will find this bag easy to use. Additionally another upside is if you ever use pull carts, this bag will be easy to use.
Best Staff Bags
The Titleist Staff bag is one of the more popular and well-known bags on the market.  One large strap with lots of padding makes carrying around a staff bag a little easier.  It has handles on both the top and bottom to easily pick up.  Offering enough storage space for four golfers, you'll never have to worry about leaving anything behind or taking anything out if you don't need to. You can truly look like a professional when you're rolling around the fairways with the Titleist Staff Bag.
$349.99
10.5 inch storage area
This bag has plenty of room and looks great. One thing to remember is there is only one strap. If you have to carry this bag for a ling distance, get ready to have a sore shoulder.
TaylorMade's elite professionals have made this bag highly sought after with all levels of golfers.  There are 12 pockets to keep all golf-related items in.  Their staff bag is offered with or without a stand.  PGA and European Tour professionals have the one without a stand but many lower level (Web.com and Challenge Tour) professionals use the bag with a stand.  Both are very classy and professional-looking.
This bag looks great and has plenty of extra storage for umbrellas or rain gear. It is also durable to rain will not be a problem. It is quite heavy and if you have to carry the bag, it will be difficult.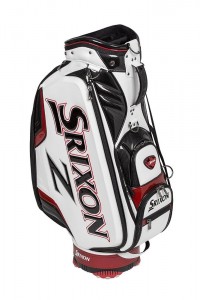 Most players associate Srixon with their golf balls but their staff bag is very classy and efficient. The bag weighs about 14 pounds and has enough pockets for any golfer.  The white, red and black color combination will make a golfer stand out at any course.
$224.95
7 pocket layout
14lbs.
36 inches tall
This bag has plenty of storage space, and is quite durable. It is not cheap or versatile, but if you mostly have one type of large bag you need, then this is a great option for you.
Choosing the right bag can reflect what kind of player you are.  Multiple factors go into picking the right one and can depend on the type of golf you play on a regular basis.  A cart rider wouldn't invest in a carrying bag because it has no support when strapped into a golf cart and a person planning on carrying their own bag day in and day out shouldn't use a staff bag.  Players don't realize that a bag can have an effect on their game, especially when carrying.  Having the perfect fit will make playing golf a lot more enjoyable.