If you are looking for a new putter, you should consider a mallet putter. Mallet putters are not a sign of a beginner golfer, they are used by golfers of all levels and offer benefits that may help improve your golf game. I put together this guide to give you the information I thought would be helpful for someone shopping for a new putter, or more specifically looking for the best mallet putter.
[wpsm_ads1]
Mallets often have more design characteristics than traditional blade putters and are known for their larger clubheads.  The club faces are similar between a mallet and a blade, but the clubhead on a mallet is larger and comes is a handful of shapes like a half circle, squareback or more abstract shapes.
The weighting on a mallet club head helps stabilize the putter head through the stroke and impact.
Looking for the Best Mallet Putter?
You can't try every mallet putter. Here are the ones we feel are the best based on our research. For a full comparison table of the best mallet putters scroll to the end of this page.
Odyssey Works Versa
Titleist Scotty Cameron Futura X5
Cleveland Smart Square TFI
Odyssey Works Tank Cruiser
Nike Method Converge
Odyssey Metal-X Milled
Brainstorm Golf Happy Putter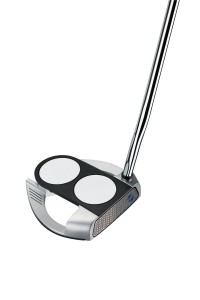 The Odyssey Works Versa mallet putter range is a collection of stable, well balanced and forgiving putters that will give you more confidence when you're standing over the short putts, as well as getting you close to the cup on those occasions when lag putting is the order of the day.
Odyssey have always had a commitment to strong alignment and the Works Versa range is no exception, making it easier for you to line up and pull the trigger when you need to make the putts.
PROS
Stable performance

. Since the anchored putter ban, many golfers have turned to the Odyssey Works Versa range to keep what they love in a putter – stability.

Great distance control

is a feature of the Odyssey Works Versa mallet putter, with golfers reporting remarkable ease of judging distances and hitting well-weighted putts.
CONS
Clutching at straws, but the Works Versa line of putters can at times lack the feedback that other putters offer due to the consistent nature of the putter. A good strike and a poor strike are sometimes indistinguishable.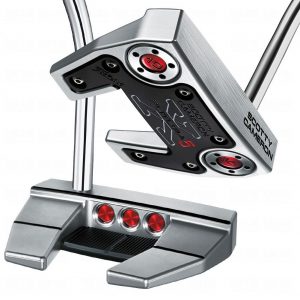 Scotty Cameron always produces great looking putters, and this is no exception. Made with Dual Balance technology the Futura X5 promotes a stable, balanced putting stroke at all times, particularly advantageous for golfers who have trouble producing a consistent putting stroke time and time again.
The putter head has been made 50 grams heavier for added stability, and is offset with a 50 gram counter balance weight in the top of the putter which makes it ideal for golfers who are transitioning from an anchored putter to a conventional one.
PROS
Outstanding distance control

. This putter provides a cleverly designed stable club head that allows for a repeatable stroke, allowing you to pick up the pace of the greens quicker than ever before.

Forgiveness

. In-built perimeter weighting ensures that you get good contact even if you produce a poor swing.

Beautiful feel

. A soft sounds resonates from the putter face every stroke you make.
CONS
Can be difficult to control

. Due to the unique counterbalance system, the extra weight can be heavier to correct when you start a stroke poorly, though that should happen less with this model.

Alignment features.

This putter is a bit light on in terms of aiding a putter alignment.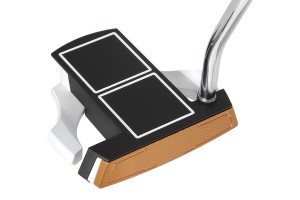 The Cleveland Smart Square TFI's main point of difference is it's enhanced alignment features, in particular the Dual Axis Alignment, which is the two squares on the top of the putter head that allow you to frame the line of the putter more effectively – 23% more accurately according to Cleveland.
Made up of 17 different components, the Cleveland Smart Square TFI comprises some state of the art materials such as the copper-infused aluminium face and polymer backing, ensuring that the feel of the putter is paramount.
PROS
Alignment is king

. If you have difficulty lining up your putts, this putter will help you – courtesy of the parallel lines of the squares on the top of head of the putter.

Medium to long putts are easier to control

. The soft feel of the putter allows you to give the ball a healthy nudge towards the hole and it will rarely fly past the cup.

Soft feel

. The head absorbs the vibration of the putt and results in a soft feel off the face of the putter.
CONS
Not great for fast greens

. The soft feel sometimes gives the putter an inflated sense of confidence when lining up a putt and that can see the ball flying past the cup if the greens are lightning.

The appearance

. Very subjective, but some people find the the design of the head to be a little too… square.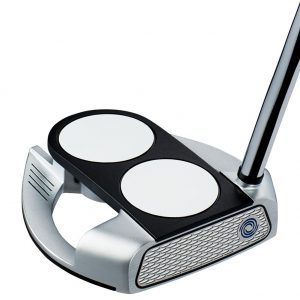 Available in four different models, The Odyssey Works Tank Cruiser features improved forgiveness across the putter face, ensuring that even your poorly struck putts result in decent enough contact to get you close to the hole.
With built in adjustable weights in the head as well as in the butt of the grip (SuperStroke as standard), the Odyssey Works Tank Cruiser is an innovative putter that has versatility at it's core, with the ability to evolve as your game does.
PROS
Versatility

. The putter comes with three different head weights as well as counterbalance weights meaning you can adjust the putter to suit your feel preference.

Soft feel.

The feel of the putter face is soft and results in a pleasing muted thud.

Alignment features built in.

Each model comes with alignment features that aid lining up your putt.
CONS
Putter face can be too soft

. Sometimes it can be difficult to get immediate feedback with a putter face to soft.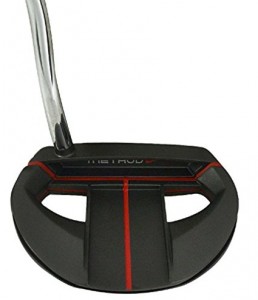 Designed with a large face and built-in stability, the Nike Method Converge putter has forgiveness at it's core, which allows you to fall short of the perfect stroke but still make good connection with the ball and achieve a consistent roll.
Featuring a red T-shaped alignment aid on it's head, this putter will help you line up and make more putts.
PROS
Responsive face

. The ball pings off the face of the putter to produce an aggressive roll on the green, meaning you won't have to muscle any putts in an attempt to get it to the hole.

Stability

. The forgiveness of this putter makes it great for those who don't always strike the center of the face.

Consistent feel

. The putter produces a firm feel from the face consistently.
CONS
Weak on feedback

. With a consistent feel from sweet spot to mishit, it can be difficult to determine if you've made a good putt or a bad one (result aside).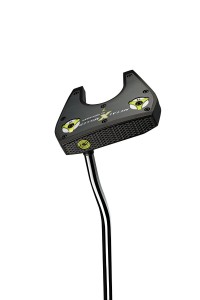 This mallet putter features milled roll technology which includes oval depressions on the face of the putter which increase friction at impact, resulting in an improvement in rolling consistency.
Another great feature of this putter is the adjustable weight system so that you can ensure that your putter is tailored to your game.
PROS
Feel

. For a putter that doesn't feature an insert, the Odyssey Metal-X Milled feels like it has one thanks to the oval depressions which reduce friction at impact.

Impressive level of forgiveness.

The difference between a good strike and a poor is minimized with this putter.

Great alignment tools

. Odyssey have continued their strong commitment to alignment aids with this putter.
CONS
Ball flies off the face

due to the decrease in putter face friction, and whilst this can be a positive for some, for others it can be a bit too hot to handle.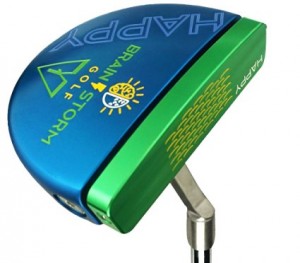 This putter is a disruptor –  a putter for the thinking-man's golfer. Featuring revolutionary levels of customisation including adjustable loft, lie, offset and overall weighting, the Brainstorm Golf Happy Putter can be tinkered with to suit practically every single stroke type or ability.
This putter is more than a gimmick, featuring pleasing feel off the face and all round solid performance.
PROS
Innovation

. With tons of visible technology included this putter is like no other.

Striking appearance

. This is a statement putter, featuring striking, bright colors on the head.

Stability

. Consistent ball striking is a feature of this putt, with little difference being felt between good strikes and poor ones. Not just a gimmick.
CONS
Outlandish appearance

. It's a pro and a con. Some people love the bright colors, some don't.

Intimidating to the social player

. With the amount of adjustable components on board this putter, the amateur golfer may be a little turned off.
---
Let's look at mallet putters, so named due to their croquet head-designed mallet blade.
History of mallets
Mallet putters have become very popular in golf over the past few decades. With a number of pro golfers using them, including Padraig Harrington, Nick Faldo, and Jim Furyk, they have now started to make their way into the hands of amateur golfers.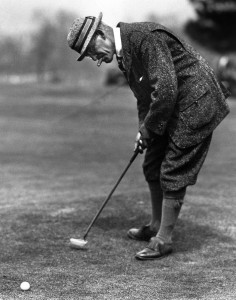 Although the popularity has risen lately, mallet putters have been around for decades. In fact, one of the first mallet styled putters was used by Walter Travis, an American golfer who won the British Amateur golf tournament in 1904. His putter the 'Schenectady' was very much styled in a mallet fashion. In fact, this putter, designed by inventor Arthur F. Knight, was soon banned by Royal and Ancient due to its mallet head. The ban was only lifted in 1952.
Why people like mallet putters
There are a number of reasons why mallet putters are popular which include the following:
Large sweet spot – This helps to deliver a good roll on your putts without the twists, pulls, or pushes that often accompany putts that are struck poorly.
Balance – As the mallet putter has more weight than regular putters it has far more balance. So even if you do not hit the ball dead center when putting, the extra weight will help to eliminate a number of problems found with mishit putts including bouncing, skidding, as well as rolling off-line.
Weight – The extra weight in a mallet putter definitely can help on the green, especially for the amateur golfer who might not always get as close to the pin with their approach play as they would like to. The extra weight also helps to ensure other important putting characteristics such as rhythm and pace are maintained.
Swing Path – Mallet putters are typically face balanced (instead of toe balanced) . This means mallet putters are more inclined to stay straight through your stroke, opening less on the backswing and closing less on the follow-through – this suits the players with a straight-back- straight-through putting stroke.
Mallet putter alignment aids
Other than the advantages you would gain from using a mallet putter, perhaps one of the main reasons people appreciate this type of putter is due to its alignment aids. Because of their thicker body, mallet putters offer three-dimensional alignment opportunities unlike the one-dimension of a regular blade putter. These alignment aids are usually in the form of a few lines that help ensure you are aiming down the correct target line when setting up your putt as well as keeping the blade square at all time.
Should your golf game continue to struggle when you reach the greens, consider using a mallet putter over a more traditional blade type. Often, the extra weight, excellent balance, large sweet spot and alignment aids will help to improve your putting immeasurably.