In a perfect world, every round of golf would be played under sunny skies. Of course, that is not always going to be the case, as you will have to deal with some rainy conditions from time to time. However, when the sun does come out, you will want to have a quality pair of golf sunglasses in your bag (or, even better, on your head) to protect your eyes as you make your way around the course.
Even if you don't like to hit your shots while wearing sunglasses (some golfers do, others don't), you should at least have a pair available to wear in between shots. Extended exposure to the sun without sunglasses can easily fatigue your eyes, and you may find that you have a headache by the end of the day as a result. We put together this guide to help you find the best sunglasses for golf.
Good golf sunglasses have a number of performance characteristics. They should fit nicely on your face so as not to move around while you swing, and they should have durable lenses that can stand the test of time. Also, it is nice if the glasses come with a case that will protect them while in your bag, although this is a bonus only included with some models.
While you can certainly spend a small fortune on a high-end pair of sunglasses, it is also possible to get a functional pair for a reasonable price.
Listed below you will find some of the best golf sunglasses available today.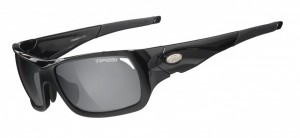 You always want to look good when wearing sunglasses, whether you are out on the golf course or anywhere else. That won't be a problem with this pair of Tifosi Duro Golf Interchangable Sunglasses, as this is a good looking product with plenty of performance characteristics as well.
Shatterproof polycarbonate lenses are included with this pair of sunglasses, and you will likely find that these not only work well for golf, but for tennis and other sports as well. If you are in the market for a quality pair of shades that will serve you well on the links, the Tifosi Duro is a nice place to start your search.
Features:
Shatterproof polycarbonate lenses
Sharp peripheral vision
Golf/Tennis (GT) lens is color neutral, great for full sun and high-contrast  to help you better locate your ball in all lighting
Extreme Contrast (EC) lens filters blue light and was designed specifically as a green reader
Dimensions: 7 x 4 x 3 inches
[wpsm_button color="orange" size="medium" link="http://amzn.to/2a3HvHW" icon="none" class=""]Check Price on Amazon[/wpsm_button]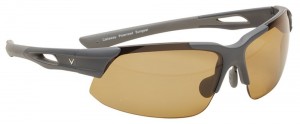 Another good looking pair of sunglasses, this model comes from the golf company Callaway. With protection from UVA rays, this is a pair that will serve you nicely on the course thanks to the peregrine lens which allow more light to reach your eyes.
One of the problems that is faced by many golfers when wearing sunglasses on the course is the loss of depth perception that can come along with darker lenses. That isn't going to be an issue with this pair however, so you might find that skills like green reading quickly improve when these glasses are put to use.
The frame of these sunglasses is a matte gray finish, and even the nose pad is meant to keep these shades comfortable on your face from the first shot through to the last. Along with the purchase comes a lens cloth to keep your lenses clean, a carrying pouch, and a hard case.
Buying sunglasses from a company that specialized in golf equipment offers confidence that they will know exactly what it is that golfers need from this kind of gear. Callaway has a long-standing reputation as one of the best brands in the game, and that reputation seems safe with this pair of sunglasses.
Features:
Adjustable nose pads allow fitting options

100% protection from UVA, UVA, and UVA rays
Weighs less than an ounce
Lens allows in twice as much light for better depth perception
[wpsm_button color="orange" size="medium" link="http://amzn.to/2ap1dvG" icon="none" class=""]More Reviews[/wpsm_button]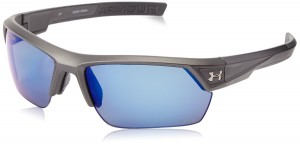 This pair of shades is from a company that has been coming on strong in recent years. You have no doubt seen Under Armour products on a golf course near you, as well as on the courts and fields of many professional sports.
Their profile in the sport world has rapidly expanded, and these sunglasses are a great example of the quality and performance characteristics present in most of their items. With a polarized iridium lens and a plastic frame, these are glasses that you can wear with confident on the course.
While these are sunglasses that should perform nicely for you on the course, they are capable of working nicely in plenty of other settings as well. For most people, it is too much to ask to have to buy expensive sunglasses for golf and then still need to buy another pair for other tasks, so it is nice to get a versatile pair such as this option.
Whether you are a long-time Under Armour customer or not, you will likely be impressed with the quality and performance offered up by the Men's Igniter 2.0 sunglasses.
Features:
Undistorted peripheral vision & are up to 10X stronger than ordinary polycarbonate lenses
Blocks 100% of UVA, UVB & UVC rays
Adjustable nosepad
Airflow technology to let air in
Not polarized
Plastic lens
Multiflection™ lens to stop scratching and smudging
Dimensions: 6.5 x 2.6 x 2.5 in
[wpsm_button color="orange" size="medium" link="http://amzn.to/2ap1Jd0″ icon="none" class=""]More Reviews[/wpsm_button]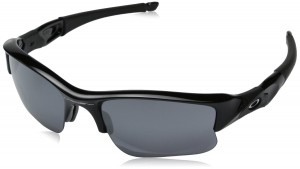 It wouldn't be right to have a list of sunglasses designed for sporting use without at least one entry from Oakley. This is a brand that is nearly synonymous with sports sunglasses, so you should at least consider a pair of Oakleys when trying to pick out a pair of golf sunglasses to get you through the summer. This pair, the Men's Flak Jacket XLJ Sunglasses, is just one of many options that would be worthy of your attention from this quality brand.
Some of the features of this pair of sunglasses include an O Matter frame, a plutonite lens which is non-polarized, 100% UV protection coating, and more. One of the best features of these glasses from a golfer's perspective is the way they will fit around your head (for most people).
Most golfers find that these glasses fit snugly but comfortably, so you can wear them all day without having to worry about them falling off your head. Of course, they are a great looking pair of sunglasses as well, so you will be proud to show them off at the course and during your day to day life.
Features:
Keeps out 100% of UV rays
Offers extended coverage often better suited to larger faces
Grips on both ears and nose make sure sweat does not make the glasses move
Plastic frame/lens
Lens width: 29 mm
Dimensions: 8 x 4 x 4 inches
Design limits static electricity so dust and particles will not cling to the lenses as much
Nose pads come in two sizes with every frame so as to best fit the customer
[wpsm_button color="orange" size="medium" link="http://amzn.to/29QcQtJ2a4PJyv" icon="none" class=""]More Reviews[/wpsm_button]
Sunglasses are a very personal piece of equipment, so make sure you trust your instincts and pick out a pair that you love. If possible, head to a local sporting goods store to try on a few different options before you settle on the pair that is going to help lead you around the course for many sunny rounds to come. Good luck shopping!